Calories
117
Fat
5 g
Carbs
13 g
Protein
5 g
Serves
16 (serving size = 31 g)
60 g evaporated fat-free milk
30 g salted butter
35 g chocolate chips
125 g oats
80 g chocolate wafer cookies, chocolate graham crackers (the macros for this recipe were calculated using Annie's Chocolate Bunnies)
14 g cacao or cocoa powder
1/2 tsp peppermint extract
55 g evaporated fat-free milk
48 g vanilla whey protein powder
45 g light cream cheese, at room temperature
1/2 tsp peppermint extract
20 g chocolate chips
1.25 g coconut oil
Fresh mint, for garnish (optional)
Share:
Tags: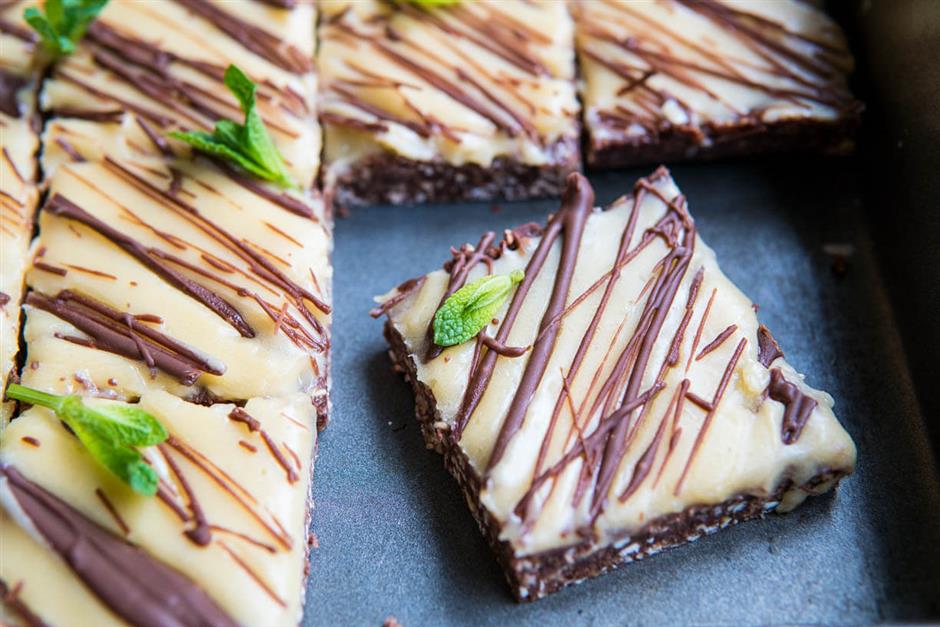 If mint chocolate ice cream and Thin Mints had a baby, these mint chocolate bars would be the result. They're also deceptively macro-friendly thanks to fat-free evaporated milk, light cream cheese and a punch of vanilla whey protein powder.
Note that these bars firm up over time, so if you're looking to pack them in lunches, make sure they chill in the fridge overnight, otherwise you may end up with a gooey mess (but we won't judge you if you decide to lick the tupperware).
Instructions
Line an 8x8 pan with parchment paper. Set aside.
In a small saucepan, warm 60 g of evaporated fat-free milk, butter and 35 g of chocolate chips over medium-low heat until the chocolate and butter are melted.
Meanwhile, combine the oats, chocolate wafer cookies and cocoa powder in a food processor bowl and pulse until the mixture resembles dry sand. When the chocolate/butter/evaporated milk mixture is ready, add it to the food processor along with the 1/2 tsp of peppermint extract and pulse the mixture until it sticks together. Transfer the cookie base to the lined 8x8 pan and, using your fingers, press the base into an even layer. Chill the base in the refrigerator while you make the frosting.
To make the minty layer, stir the whey protein powder and the evaporated milk together until you have a thick paste. Add the light cream cheese and the peppermint extract and beat with a whisk (or hand mixer) until combined. The mixture will be a little runny. Pour the minty layer on top of the cookie base.
For the chocolate drizzle, melt the chocolate chips in the microwave in 20-second increments, stirring in between. Add coconut oil to the warm chocolate (it should melt instantly if the chocolate is warm enough) and drizzle the mixture over the top of the bars.
Let the bars chill in the fridge to firm up—for at least an hour, but ideally overnight. Cut into 16 squares and store covered in an airtight container. Garnish with fresh mint leaves, if desired.
This recipe was tested using whey protein. The results may differ if you use plant-based or casein protein powders.
This guide is jam-packed with everything you need to know about nutrition.
From tracking macros to meal ideas.
Recent Posts: