Calories
496
Fat
36 g
Carbs
1 g
Protein
42 g
Serves
2 (serving size = 145 g, cooked, bone-in)
1 lb raw, bone-in chicken wings
1 1/2 tsp baking powder (not baking soda, not bicarbonate)
1 tsp salt
50 g Frank's RedHot
1/2 tsp Worcestershire sauce
Cooking spray
Share:
Tags: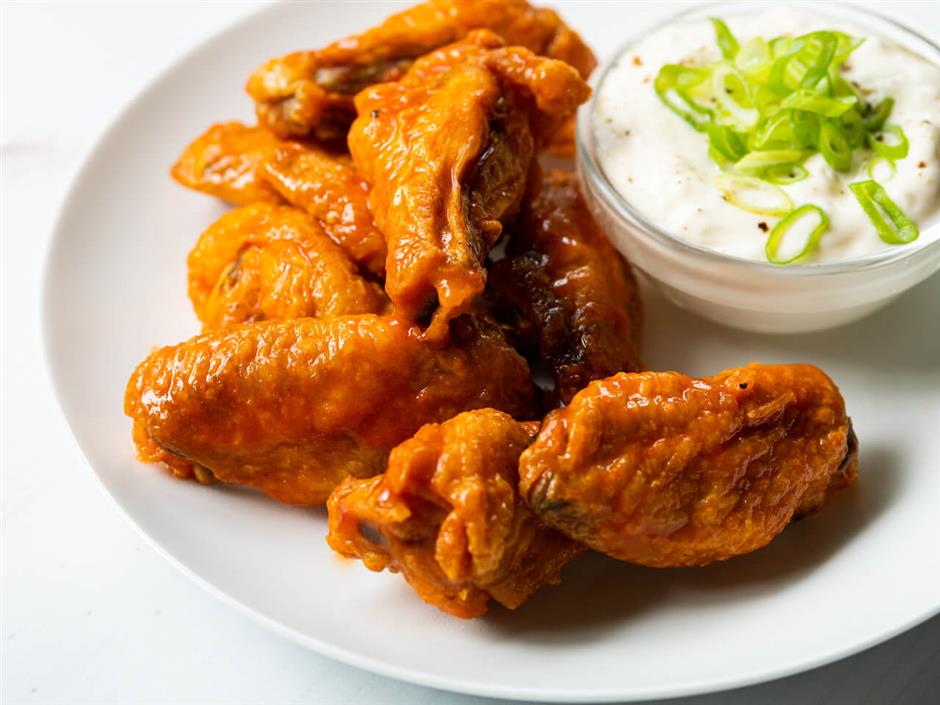 Yes, you can get crispy buffalo wings without going near a deep fryer or adding a drop of oil. The secret is baking powder and salt, which pull moisture away from the chicken skin while it's cooking and result in restaurant-style wings.
While this recipe is simple, it requires two things: baking powder and an oven-proof cooling rack. If you don't have baking powder or a rack, then today is not your day to make chicken wings. Baking soda (the stuff in the yellow box) will not work. You must use baking powder.
Additionally, you will need to invest in a cooling rack. Without one, the wings will cook in their own drippings, which inhibits crispiness. The good news is that racks are inexpensive and easy to find at Walmart, Amazon, or any store that carries kitchen equipment.
Lastly, to err on the side of caution, the nutrition information was calculated using raw chicken wings. As the wings cook, however, the baking sheet will catch all the fat that renders (melts) the wings (another perk of using a cooling rack). In our testing, between 6–8 grams of fat cooked off the wings, which means the total fat in each serving was reduced by 3–4 grams. Your wings may render more or less fat, so for the most accurate nutrition count, we recommend that you weigh the drippings and subtract them from your overall macros.
Instructions
Preheat oven to 425 F. Line a baking sheet with foil and place an oven-proof baking rack over the baking sheet. Generously spray the baking rack with cooking spray and set aside.
Pat the chicken wings dry with a paper towel and place them in a bowl. Whisk together the salt and baking powder, then sprinkle half the mixture over the chicken wings. Toss the chicken wings a few times, add the rest of the baking powder mixture and toss again. The wings should be evenly coated, without any big lumps of baking powder.
Transfer the wings to the baking rack, meaty side up. Bake the wings for 20 minutes, then remove the tray from the oven and flip the wings. (Keep the oven door closed while you're flipping to preserve heat.) Bake the wings for another 20 minutes, flip again, and bake for a final 15 minutes or until the skin is golden and crispy.
Just before you remove the wings from the oven, whisk together the Frank's RedHot and Worcestershire sauce. When the wings are cooked, remove them from the oven and transfer them into a bowl. Pour the hot sauce over the top, toss to coat, and serve immediately.
This guide is jam-packed with everything you need to know about nutrition, from tracking macros to meal ideas!
Recent Posts: