Calories
302
Fat
10 g
Carbs
26 g
Protein
27 g
Serves
4
610 g kabocha squash, peeled, seeded and roughly cut into 1/2-inch-thick pieces
245 g yellow onion, diced
9 g (2 tsp) butter or oil
38 g (2 tbsp) Massaman curry paste (the macros for this recipe were calculated using Thai Kitchen brand)
1/4 cup + 1 tbsp coconut cream
1 cup chicken broth
440 g chicken breast, cubed
150 g bell pepper, diced
120 g fresh green beans, roughly chopped
1 lime, juiced
Additional spices to taste (cinnamon, cayenne, ginger, turmeric, curry powder)
Salt & pepper to taste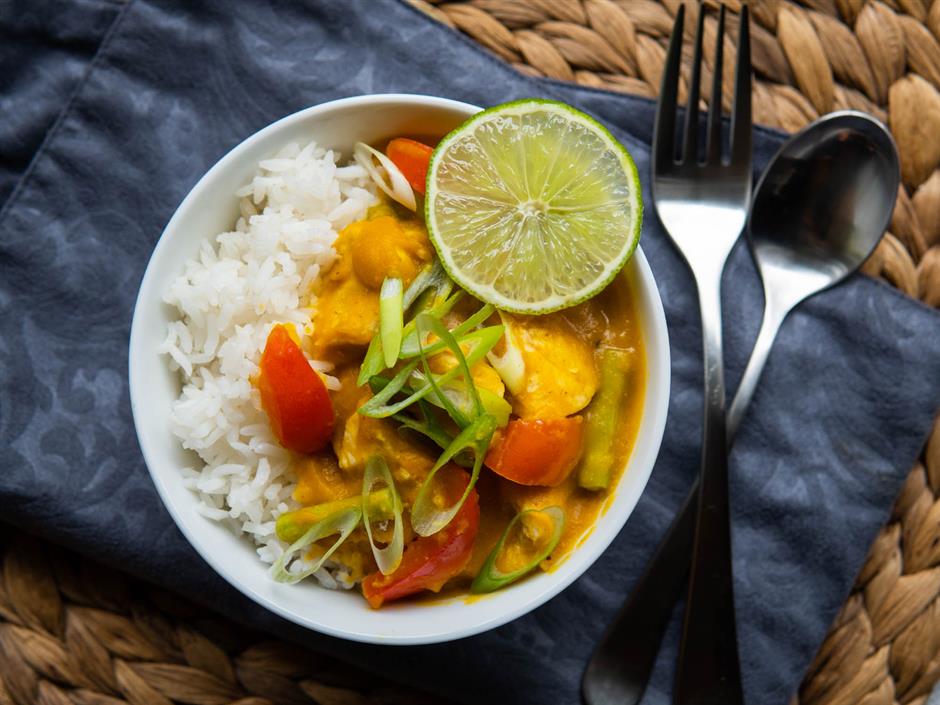 When you started WAG, you might have thought that rich curries were a thing of the past. But with the help of nutty, slightly sweet kabocha squash—a Japanese pumpkin that is bursting with nutrition despite its low macro count—this creamy, mild, slightly sweet Massaman curry will keep you full and satisfied for hours.
This recipe calls for a little grocery store sleuthing in the Asian section of your grocery store. If you can't find prepared Massaman curry paste, you can substitute it with red curry paste. Stick to coconut cream over coconut milk—yes, the macros are a little higher, but you'll use less and get more of a coconut flavor. This recipe can also be made vegan by substituting the chicken broth for vegetable broth and the chicken for tofu or pre-cooked lentils.
For tips on cutting and peeling a kabocha squash, check out this tutorial.
Instructions
Melt the butter or heat oil plus 1 tbsp of coconut cream in a large pot over medium heat, then add the Massaman curry paste. Let the paste fry in the butter or oil for 30 seconds or so, in order to release its fragrance and flavor. Add the diced onions and kabocha squash. Stir the mixture and let it cook until the onions begin to soften about 5 minutes. Then add the chicken broth and remaining 1/4 cup of coconut cream. Cover the pot and let the curry simmer until the squash is completely cooked through, about 10–15 minutes.
Meanwhile, cube the chicken breast and cut the red peppers and green beans. Set aside.
When the squash is soft and cooked through, carefully transfer the entire mixture to a blender and blend until smooth. Pour the curry sauce back into the sauce pot and stir in the lime juice. Adjust the seasoning to your liking, either by adding more curry paste or dry spices like turmeric, cinnamon, ginger, curry powder or cayenne—add 1/2 tsp at a time until you're happy!
Add the cubed chicken, peppers and green beans to the pot. Stir and bring the mixture to a boil, then cover and reduce the heat to medium-low. Let the mixture simmer until the chicken is cooked through, about 15 minutes. Serve with jasmine rice, a dollop of plain Greek yogurt and a squeeze of lime (but don't forget to calculate the macros!).
For a more intense curry flavor, add an extra tablespoon of curry paste. Looking to really commit to your nutrition goals? Give WAG a try!
---
You Might Also Like