Calories
346
Fat
14 g
Carbs
19 g
Protein
36 g
Serves
7 (serving size = 212 g)
1,200 g boneless pork loin chops, at least 1 1/2" thick
220 g frozen cranberries
100 g orange juice
252 g tomato puree
120 g apple cider vinegar
15 g liquid smoke
45 g chipotle in adobo, diced
105 g maple syrup
1 tsp salt
24 g optional monk fruit sweetener (see note in intro paragraph)
Share:
Tags: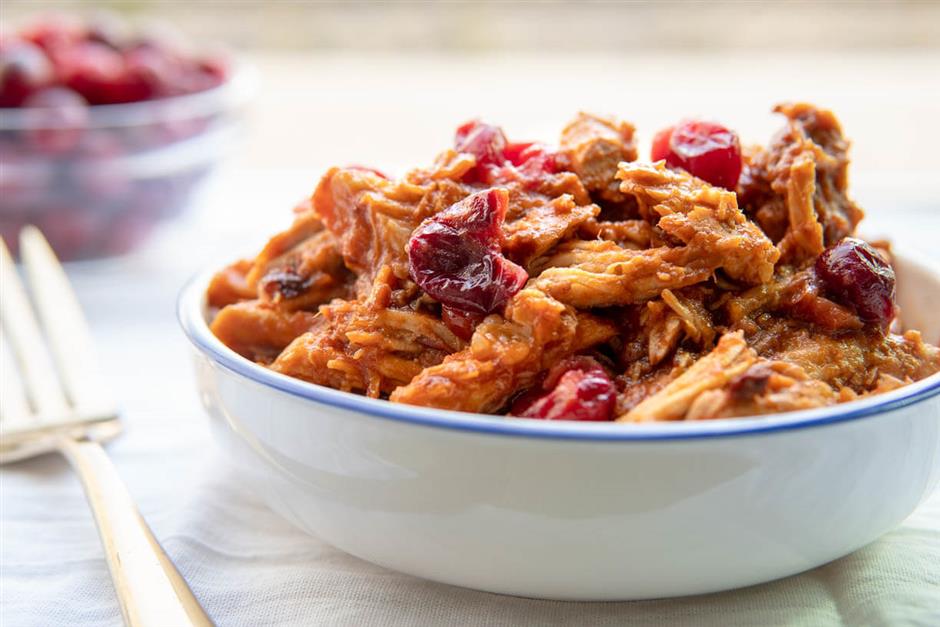 Whether you're looking to bring a new dish to the holiday table or perk up your next tailgate, this tangy, lightened-up cranberry pulled pork is a crowd-pleaser.
To make this recipe as easy as possible while also sticking to lean cuts of pork, we use straight-from-the-package boneless pork loin cut into 1 1/2 inch thick chops. Alternatively, you can buy a whole pork loin and cut it into chunks yourself.
Note that barbecue sauces are subjective. Some people like 'em sweet and some like 'em tangy. If you find the sauce is too sour, add additional monk fruit sweetener. If monk fruit isn't your thing, you can add a few drops of liquid stevia, a few tablespoons of maple syrup, or even brown sugar. Just don't forget to adjust the macros!
Instructions
Select the "Sauté" function on the Instant Pot and set it to More. Add the frozen cranberries and orange juice. Let the cranberries simmer until they begin to bubble, about 4 minutes. Add in the tomato puree, apple cider vinegar, liquid smoke, chipotle in adobo, maple syrup and salt. Let the sauce ingredients simmer for another 4–5 minutes, then add in the pork and secure the lid. Select the Pressure Cook function and cook on High Pressure for 40 minutes.
Once the 40 minutes is complete, use the Quick Release valve to let the steam escape. Open the lid, transfer the pork to a bowl, and shred it with a fork. Cover it with foil to keep warm.
Meanwhile, reduce the leftover sauce in the instant pot. Select the Saute function, set it to Normal, and let the liquid reduce by 2/3 or until it is thick enough to generously coat the back of a spoon, about 30–40 minutes depending on the size of your Instant Pot. When the sauce is thickened, give the sauce a taste and then add the monk fruit sweetener as desired (you may want a little more or less depending on how you like your barbecue). Season the sauce with additional salt and pepper, pour the sauce over the pork, toss and serve.
If you don't have an Instant Pot, this recipe can also be adapted to a slow cooker. Simply bring all the sauce ingredients to a simmer in a pot on the stove. Then place your pork in the slow cooker, cover it with the sauce and let the whole thing cook on low for 5–6 hours, or until the pork can easily be shredded with a fork. Remove the pork with a slotted spoon and transfer the sauce to a saucepot. Let the sauce reduce on the stove until it's thick, then pour over the shredded pork and serve.
This guide is jam-packed with everything you need to know about nutrition, from tracking macros to meal ideas!
Recent Posts: