Calories
295
Fat
7 g
Carbs
35 g
Protein
23 g
Serves
2 (serving size = 200 g)
**For the tempeh:**
8 oz tempeh, cut into bite-sized cubes
1/3 cup vegetable stock
15 g (1 tbsp) soy sauce
15 g (1 tbsp) mirin
1 clove of garlic, smashed
**For the sauce:**
30 g soy sauce
10 g chili garlic sauce
10 g (2 tsp) rice vinegar
10 g (2 tsp) mirin
16 g (1 tbsp) hoisin sauce
4 g (1 tsp) sesame oil
7 drops liquid stevia
10 g minced or finely grated ginger
1 dried Chinese chili or red Thai chili (optional)
15 g orange juice
1/4 cup vegetable stock
9 g scallion, chopped
7 g (2 tsp) cornstarch, divided
1 tbsp water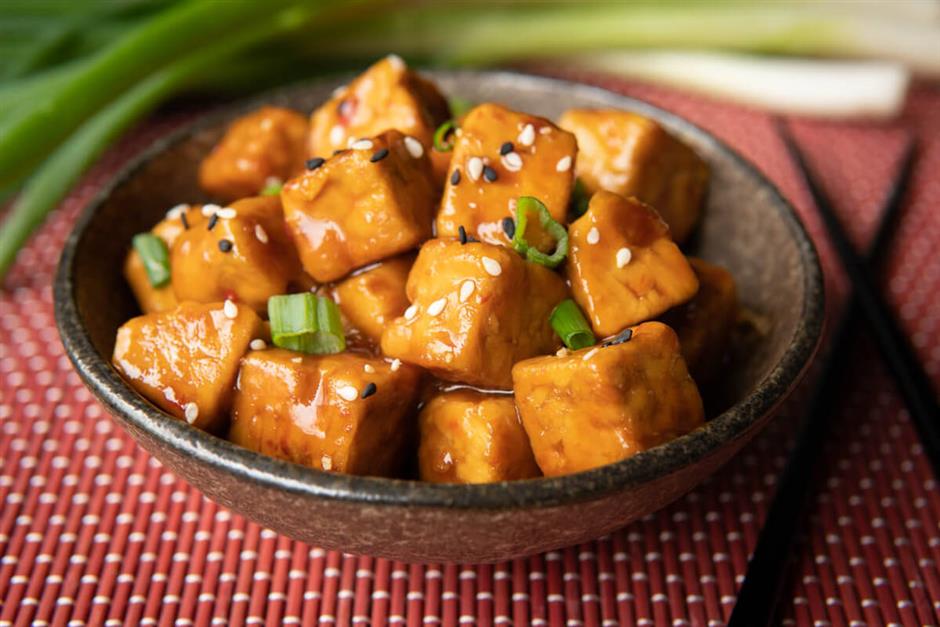 Whether you're plant-based or just looking to mix up your proteins, this tangy, sweet and spicy General Tso's Tempeh will satisfy that Chinese takeout itch without crippling your macros.
Not into tempeh? Extra-firm tofu or chicken breast will work too. Just make sure to drain and press your tofu before simmering (and adjust those macros!).
Instructions
Prepare the tempeh. Add the cubed tempeh, 1/3 cup of the vegetable stock, 15 g of soy sauce, 15 g of mirin and the smashed garlic clove to a medium-sized pot. Arrange the tempeh so it's in a single layer (it will not be fully covered with liquid).
Bring the mixture to a bubble over medium heat, cover, and let the mixture simmer for 7 minutes (set a timer!). After 7 minutes, remove the lid, flip the tempeh, and let it simmer for another 7 minutes, uncovered, or until all the liquid evaporates.
While the tempeh is cooking, combine all the ingredients for the sauce, except the cornstarch and water, in a bowl. Set aside.
When the liquid is nearly evaporated from the tempeh, pour the tempeh into a strainer, shake off any excess liquid and remove the garlic clove. Pour the tempeh into a clean bowl and toss it with 1 tsp of cornstarch.
Heat a nonstick pan over medium-high heat and spray it with cooking spray. Add the tempeh to the pan and let it brown, tossing regularly, for about 5 minutes. Return the browned tempeh to the same bowl (don't worry if there's some cornstarch stuck to the bowl), set aside, and keep the frying pan over medium-high heat.
Combine the remaining 1 tsp of cornstarch and 1 tbsp of water in a small bowl or glass and whisk it into the sauce. Pour the sauce into the hot frying pan and stir until the sauce thickens to a syrup-like consistency, about 5 minutes. Pour the sauce over the tempeh and toss. Serve immediately.
Note that this is a saucy recipe (perfect for serving with a side of rice or steamed broccoli to sop it up). If you don't have much flexibility in your macros, you can cut the sauce ingredients in half for an even lighter meal.
This guide is jam-packed with everything you need to know about nutrition.
From tracking macros to meal ideas.
---
You Might Also Like