Calories
251
Fat
7 g
Carbs
34 g
Protein
13 g
Serves
3 (serving size = 120 g)
180 g skinless cod fillet, patted dry
30 g shallots, very thinly sliced
5 g (1 clove) garlic, thinly sliced
20 g jalapeño, seeded and thinly sliced
10 g (2 tsp) olive oil
1/4 + 1/4 tsp salt
Black pepper
3 tortillas (the macros for this recipe were calculated using Trader Joe's Yellow Corn Tortilla with Wheat)
20 g of [WAG Creamy Avocado Slaw](https://www.workingagainstgravity.com/articles/creamy-avocado-slaw)
10 g drizzle of WAG [Creamy Chipotle Mayo](https://www.workingagainstgravity.com/articles/creamy-chipotle-mayo)
Cilantro, for garnish
Share:
Tags: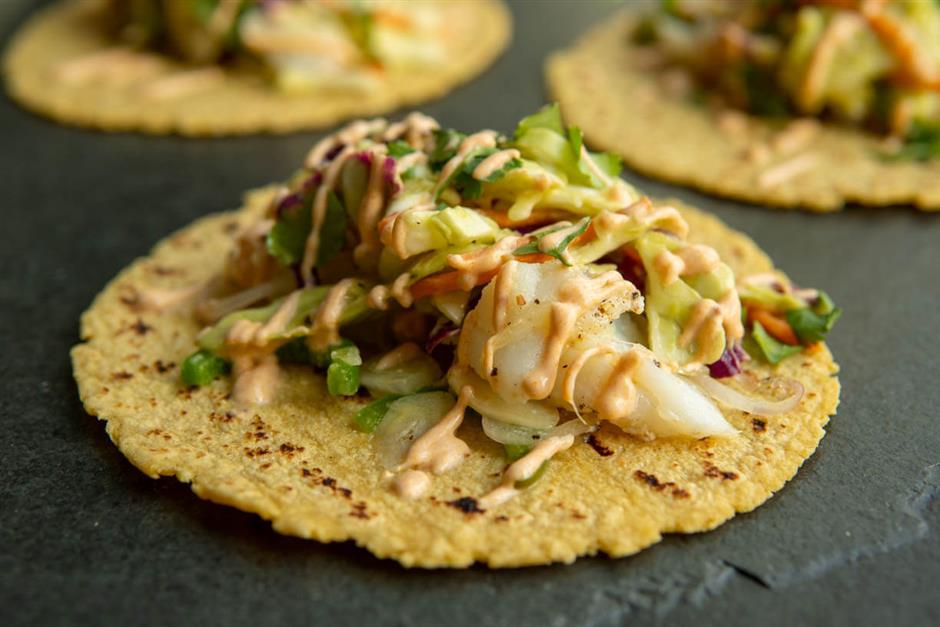 We promise, making fish tacos at home is easier than you think! Thanks to the humble codfish, a low-fat/high-protein whitefish that's dirt cheap and difficult to overcook (unless you really forget about it), you can have fish tacos on your table in less than 25 minutes.
Note that the weight per serving and macros for this recipe are calculated per taco based on our testing, but they will vary depending on the brand and size of your tortillas, how much liquid your cod gives off during cooking, and how much slaw and sauce you like to slather on top. Double-check the nutrition label on your tortillas and adjust the toppings to your liking, then don't forget to adjust the macros!
Instructions
Preheat oven to 400 F. Line a baking sheet with foil or parchment. Sprinkle a 1/4 tsp of salt and pepper over the cod fillet and place it on the baking sheet. Set aside.
In a small bowl, combine the sliced shallots, garlic and jalapeño. Use your fingers to break up the shallots so they're not sticking together, then add olive oil and remaining 1/4 tsp of salt. Toss until the oil coats the veggies, then pile the mixture on top of the cod. You should have enough of the shallot/jalapeño mixture to create an aromatic blanket over your cod, which will help keep it moist. Bake the cod for 15 minutes, or until cooked through.
While the cod is baking, prep the [creamy avocado slaw](https://www.workingagainstgravity.com/articles/creamy-avocado-slaw) and [creamy chipotle mayo](https://www.workingagainstgravity.com/articles/creamy-chipotle-mayo).
When the cod is finished, use a fork to break it into chunks and assemble your taco along with the slaw, chipotle mayo and chopped cilantro.
You can warm tortillas in the microwave without drying them out by covering them with a damp paper towel and microwaving them on high for 45 seconds.
This guide is jam-packed with everything you need to know about nutrition.
From tracking macros to meal ideas.
Recent Posts: