Calories
142
Fat
6 g
Carbs
7 g
Protein
15 g
Serves
3 (serving size = 115 g)
235 g extra firm tofu
10 g nutritional yeast
1/2 tsp ground turmeric
1/2 tsp garlic powder
1/2 tsp chili powder
5 g Dijon mustard
1/4 tsp salt
70 g milk of choice (the macros for this recipe were calculated using unsweetened Blue Diamond Almond Breeze)
Optional red pepper flakes and sliced green onions for garnish
Nonstick spray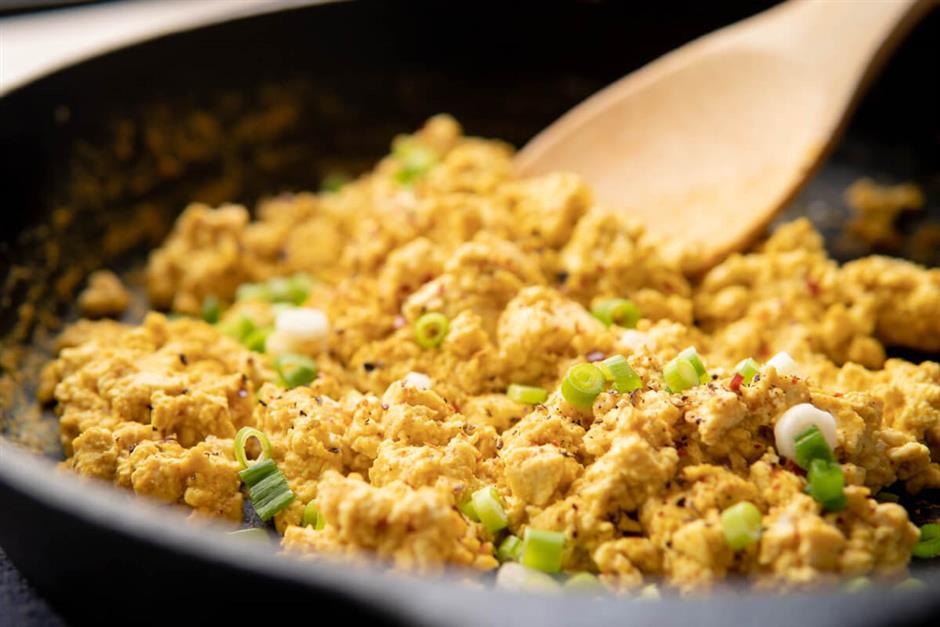 Whether you're vegan, taking a break from eggs or just looking to mix up your protein options, this easy tofu scramble comes together in less than 10 minutes. Put it on toast, wrap it in a tortilla, or toss it with veggies for a quick and versatile meal that's perfect for any time of day.
Instructions
Drain the tofu from the package and crumble it in a bowl with the back of a fork, making sure to leave some bigger chunks for texture. Set aside.
In a small bowl, combine the nutritional yeast, turmeric, garlic powder, chili powder, Dijon mustard, salt, and milk. Stir together and set aside.
Over medium-high heat, spray a frying pan with nonstick spray and add the tofu. Gently scramble the tofu until the pan is dry and the tofu begins to brown, about 2 to 3 minutes.
Add the sauce and stir, letting the mixture cook for a minute or two, or until it hits your desired consistency. Top with fresh cracked pepper, red pepper flakes and sliced green onions.
This guide is jam-packed with everything you need to know about nutrition.
From tracking macros to meal ideas.
---
You Might Also Like