Calories
275
Fat
7 g
Carbs
28 g
Protein
25 g
Serves
4
600 grams golden potatoes, quartered
450 grams (16 oz) salmon fillet, skinless
80 grams white onion, diced
Salt and pepper to taste
4 grams fresh garlic or garlic powder
Fresh basil leaves
Share:
Tags: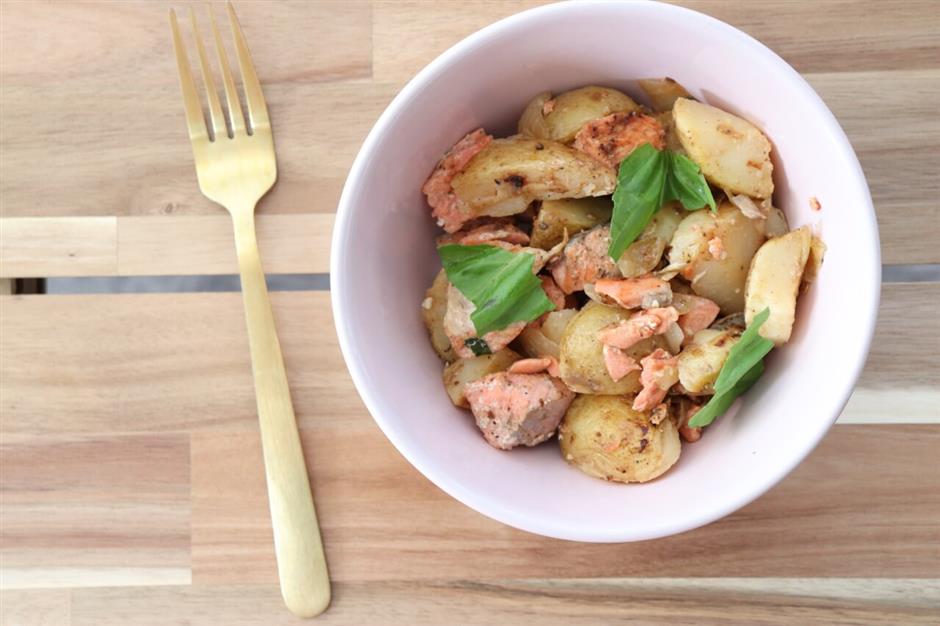 If you're looking for a savory breakfast that doesn't call for eggs, this hash recipe is everything you've been looking for. The simple ingredients make it easy to make in bulk and create the perfect balance of protein, carbs, and fats to start your morning off right.
Instructions
Pre-heat oven to 400F. Line potatoes on one side and fresh/thawed salmon fillets along the other. Season with salt and pepper.
Pro-tip: Make life easier buy getting pre-cooked salmon fillets. I often make this recipe with the Salmon Fillets from Trifecta. Use TEAMWAG at the check out for 20% off!
Bake for 10-15 minutes depending on ingredient size.
While baking, sauté onion and garlic in a non-stick pan. Add a little water to make sure it doesn't burn. If you want to add some oil or butter you can, but make sure you track the extra oil in the macros. You can do the same with the potatoes if you would like slightly more golden roasted potatoes. I prefer dry baked potatoes.
Pro tip: Use spray oil to control amounts of oil and get an even distribution.
Once all ingredients are cooled, mix together in a large bowl and weigh out 4 separate portions.
When ready to serve, microwave for 3-4 minutes on medium power.
Top with fresh basil and enjoy! If you have room to account for extra fats, feel free to drizzle some olive oil over the completed dish to add extra flavor and moisture.
Want to start cooking in bulk but still track your macros correctly for individualized portions? Watch our MyFitnessPal Tutorial: How to Add a Bulk Recipe and Log a Single Serving.
Recent Posts: