Calories
46
Fat
2 g
Carbs
6 g
Protein
1 g
Serves
6 (serving size = 60 g)
255 g coleslaw mix, like Trader Joe's Shredded Green & Red Cabbage with Orange Carrots
20 g red onion, very thinly sliced
85 g ripe avocado (about 1/2 of a standard avocado)
40 g lime juice
1/2 tsp apple cider vinegar
5 g (1 tsp) maple syrup*
1/4 teaspoon salt
Pinch of pepper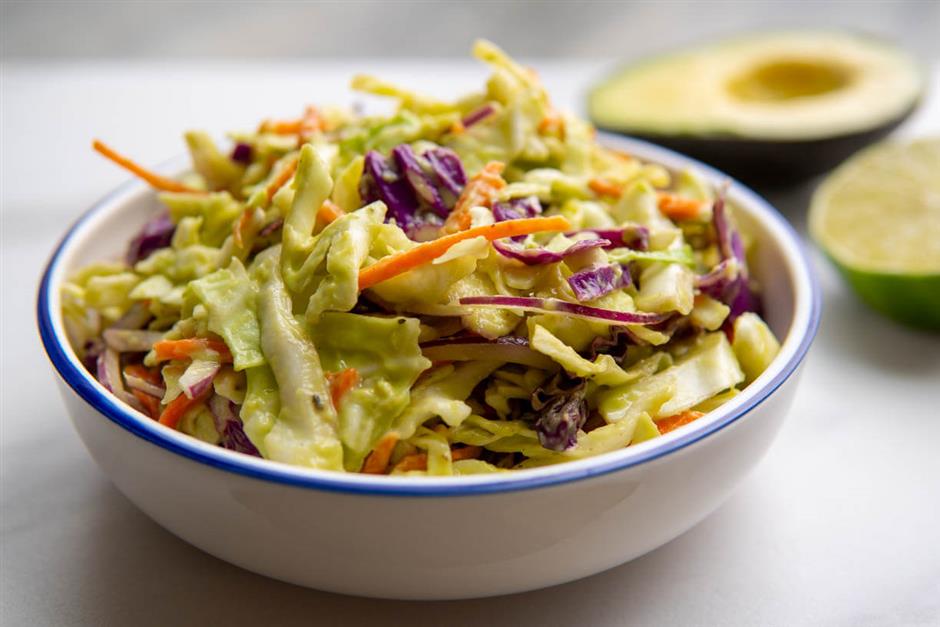 Whether you're vegan, keto* or just looking for the perfect macro-friendly side for a barbecue, our creamy avocado slaw gives you all the crunch and flavor of typical coleslaw without all the fat (and gloppy mayonnaise mess). The best part? Thanks to lots of fresh lime juice, you don't have to worry about the avocado browning. This slaw will stay fresh and bright in the fridge all week long.
For a complete meal, try this with our Instant Pot Pulled Cranberry Pork or Foolproof Fish Tacos.
Instructions
Combine the coleslaw mix and red onions in a bowl. In a small food processor, blender or NutriBullet, blend the avocado, lime juice, apple cider vinegar and maple syrup until smooth. Pour the avocado mixture over the coleslaw, add a little salt and pepper, and toss to coat. Refrigerate in an airtight container for up to five days.
*If you're following a keto diet, you can substitute the maple syrup with a drop of liquid stevia or 1/2 a teaspoon of monk fruit sweetener.
This guide is jam-packed with everything you need to know about nutrition.
From tracking macros to meal ideas.
---
You Might Also Like