Calories
105
Fat
5 g
Carbs
8 g
Protein
7 g
Serves
15 (serving size = 30 g)
120 g old-fashioned oats
93 g protein powder (for the most authentic cookie dough taste, use vanilla, cookie dough or cake batter flavored protein)
90 g nut butter or tahini (the macros for this recipe were calculated using tahini)
1 tsp vanilla extract
20 g maple syrup
45–60 g milk of choice (the macros for this recipe were calculated using unsweetened almond milk)
45 g semi-sweet chocolate chips
Share:
Tags: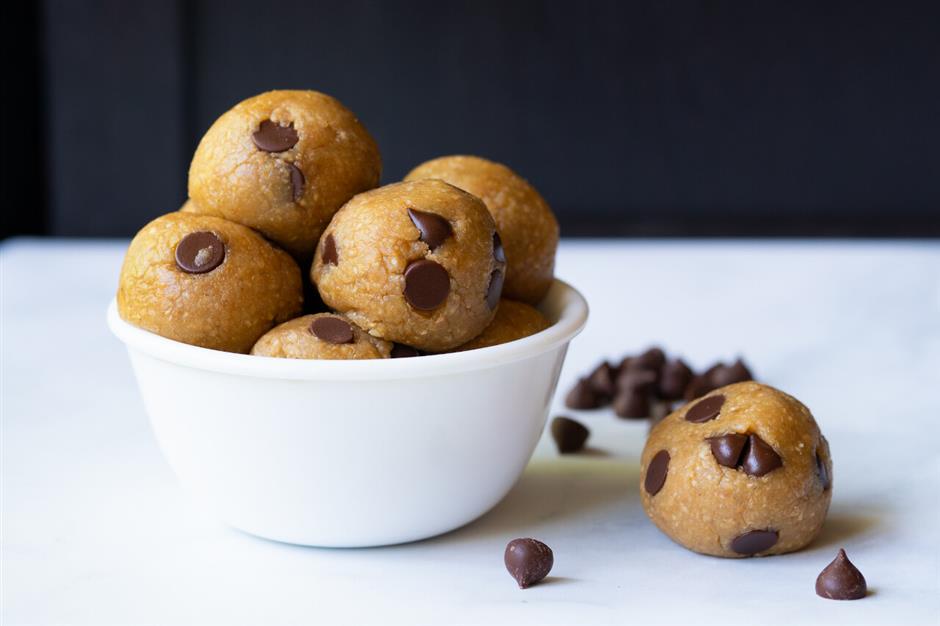 Homemade protein balls are the perfect solution for when you want something sweet, still have a few macros to account for and don't want to commit to an entire commercial protein bar. Plus, you get to use your favorite protein powder, which means you're guaranteed to like the flavor!
Our chocolate chip cookie dough protein balls come together in just 10 minutes and can be adapted to your tastes and dietary needs. Don't do nuts? Use tahini or sunflower butter. No almond milk on hand? Use cow milk or soy milk. Cutting refined sugar? Swap out chocolate chips for cocoa nibs or no-sugar-added chocolate. Just don't forget to adjust your macros!
Instructions
Add the oats to the bowl of a food processor and blitz for about 1 minute or until they form a flour. Add the protein powder and pulse one more time to incorporate. Then add all the ingredients except the milk and blitz.
With the food processor running, stream in the milk one tablespoon at a time, until the dough forms a ball and is no longer crumbly. The amount of liquid you need will depend on your protein powder and the consistency of your nut butter, so start small and keep track for the most accurate macro count.
Transfer your dough into a bowl and add the chocolate chips. Spray your hands with some non-stick spray to keep the dough from sticking to your fingers, then use your hands to incorporate the chocolate chips.
Roll the dough into 15 balls, around 30 grams each.
Store the protein balls in the refrigerator or freeze for up to three months.
Use cashew butter for the most neutral and cookie-dough-like flavor.
Recent Posts: