Calories
120
Fat
4 g
Carbs
18 g
Protein
3 g
Serves
3 (serving size = 170 g)
380 g celery root, washed and peeled
1 large lemon
30 g light mayo
15 g Dijon mustard
30 g 0% Greek yogurt or skyr
1/4 tsp celery salt
50 g Granny Smith apple
Celery leaves (for garnish)
Share:
Tags: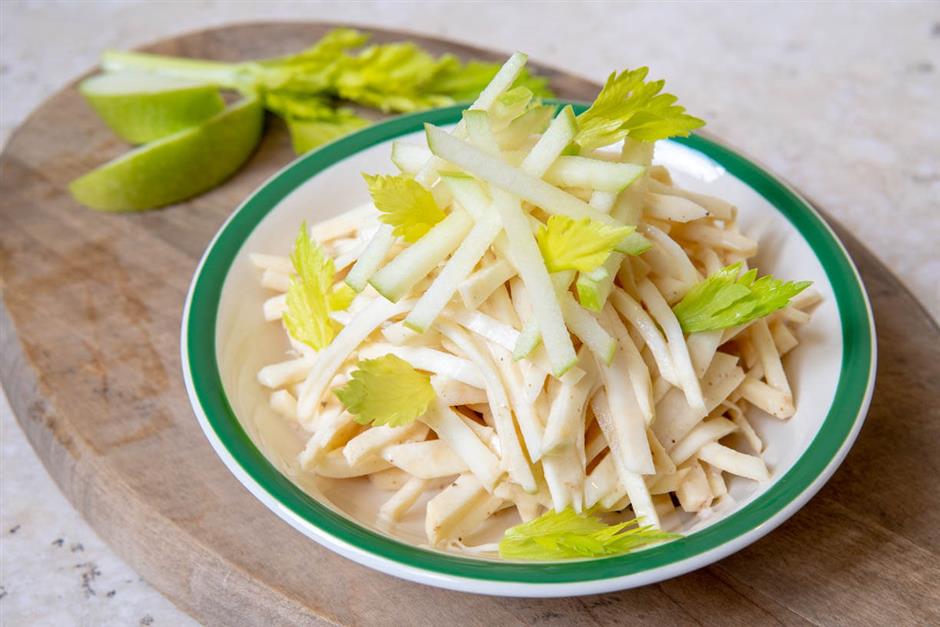 Celery root is light on the macros but big on nutritional value, packed with vitamin K and 1.8 g of fiber per 100 g serving. Its subtle flavor and sturdy crunch make for a surprisingly satisfying veggie that can be eaten raw or cooked.
Instructions
Fill a medium-sized bowl with water. Cut the lemon in half and squeeze one half into the water. Set the bowl aside.
Wash and peel the celery root using a sturdy knife. For tips on how to peel celery root, click here.
Slice the celery root and the apple into matchsticks* and place the cut pieces into the bowl of lemon water to keep them from browning.
In a small bowl, combine mayonnaise, mustard, yogurt, celery salt and remaining lemon juice. Strain the celery root and apple mixture and toss it with the dressing.
Adjust the seasoning to taste and garnish with celery leaves to serve!
*You can also use a spiralizer or a grater to speed up chopping time, but make sure to peel the celery root first.
This guide is jam-packed with everything you need to know about nutrition.
From tracking macros to meal ideas.
Recent Posts: