Calories
298
Fat
2 g
Carbs
33 g
Protein
37 g
Serves
1
25 g Kodiak Cake Flapjack and Waffle mix (any flapjack/pancake mix will work)
20 g Vanilla Whey Protein Powder (we recommend Ascent Whey Vanilla Protein because it binds well for cooking, tastes good and has WAG approved quality ingredients)
1/2 tsp Baking powder
1 tsp Cinnamon
70 g Liquid egg whites
15-20 ml of Hungry Jack Lite Syrup (you can use any syrup or a drizzle of honey instead)
30 g Fat Free Reddi Whip
5 g of Your favorite cereal for some crunch
100 g Fat free yogurt (I use Chobani or Trader Joes 0% Fat)
Share:
Tags: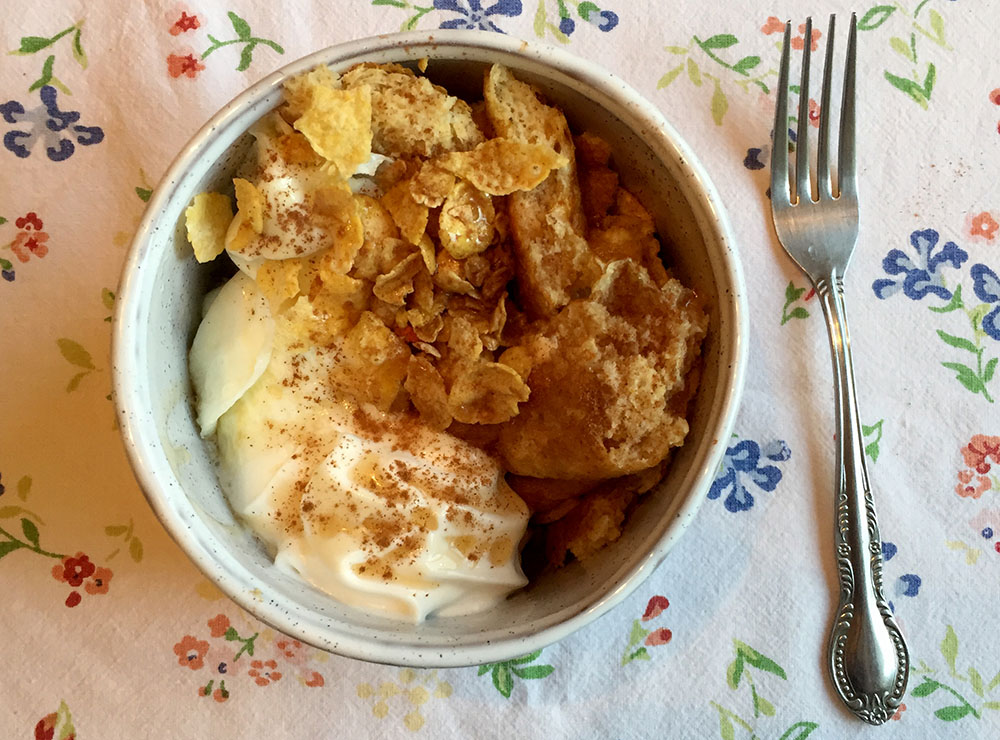 Pancakes, waffles, scones, muffins, bacon and eggs — they're all delicious, but no one wants to spend all their macros on breakfast and be hungry for the rest of the day.
The key to indulging without overdoing is to build your plate using ingredients that provide a good balance of all macronutrients. My breakfast bowl gives me a little bit of everything I love about a sweet breakfast treat with reasonable macros.
Be inspired and make your own breakfast bowl using simple ingredients and just a little of everything. I have provided a basic template for what works for most people — build from there!
Pre-Training tip: sliced bananas or strawberries make this the ULTIMATE pre-workout.
Instructions
Place yogurt in the bottom of your serving bowl
Combine flapjack mix, protein powder, cinnamon and baking powder in a bowl. Add water and mix until you have a runny consistency.
Use a light spray or nonstick spray on a frying pan. Add the wet flapjack mix and cook on low heat. While cooking, lightly spray the top of the pancake before flipping it over to cook on the other side. Depending on the size of your pan, cook the pancake for 45 seconds to a minute.
Once cooked, set the pancake aside to cool and add your egg whites to the pan. Cook into an omelet or scramble, however you prefer. Place them to one side of your serving bowl.
Rip the cooked flapjack into pieces and place on the other side of the bowl.
Sprinkle cereal, drizzle syrup, squirt the whip and MIX THOROUGHLY to get that whip and syrup throughout and make it moist.
Mixing the ingredients in a bowl (instead of just eating all of this off a plate) makes the dish moist and sweet. Also, eating out of bowls is the best and this dish is easily transferable to a Tupperware container to take with you!
Recent Posts: