Calories
279
Fat
7 g
Carbs
6 g
Protein
48 g
Serves
1
8 oz halibut fillet, patted dry
8 g (1/2 tbsp) light mayonnaise
1/2 tbsp lime juice, or the juice from 1/4 of a lime
1 1/2 tsp of fish seasoning, or make your own:
1/2 tsp onion powder
1/4 tsp garlic salt
1/4 tsp ground coriander
1/4 tsp paprika
1/4 tsp dry mustard powder
7 g (2 tbsp) panko breadcrumbs
2 tbsp chopped parsley
Salt and pepper to taste
Share:
Tags: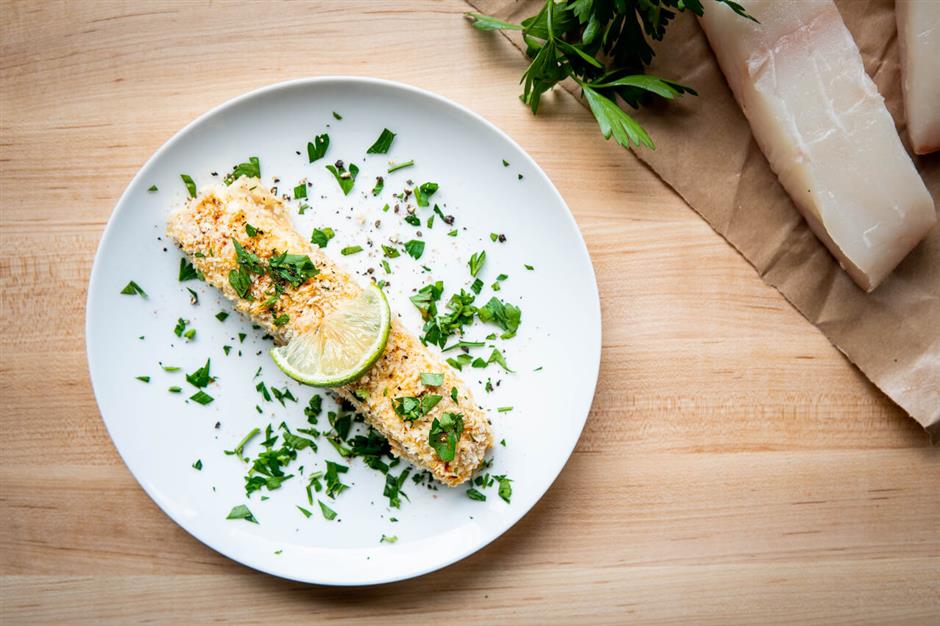 Some days call for simplicity, and this foolproof baked fish is the perfect meal that can be thrown together with whatever herbs and spices you have on hand.
Simply mix a little light mayo, citrus, and dried herbs to create a marinade that flavors the fish and keeps it moist, then dredge the fillet in a layer of panko breadcrumbs for texture and crunch.
If you don't have halibut, any firm white fish that's an inch or more thick (like cod or sea bass) will do. Just remember to adjust the macros (something a WAG one-on-one nutrition coach can help with)!
Instructions
Preheat oven to 425 F.
Place the breadcrumbs on a plate and season with salt and pepper. Set aside. In a small bowl, combine the light mayo, lime juice, and spices. Taste the mixture and season with salt and pepper to your liking.
Brush the mayonnaise mixture onto the halibut fillet, covering it on all sides.*
Dunk the fillet into the breadcrumbs to coat, and place the fillet on a baking sheet sprayed with nonstick spray.
Bake the fish for 12–15 minutes, until it is cooked through and flaky. Garnish with fresh parsley and a lime wedge.
*At this point, you can marinate the fish for up to 1 hour, but any longer than that and the halibut can start to "cook" and become mushy.
If simple seafood recipes are your thing, be sure to also try our Easy Salmon Hash!
Recent Posts: