Calories
202
Fat
6 g
Carbs
21 g
Protein
16 g
Serves
1 (serving size = 1 popsicle)
50 g 0% Fat Greek Yogurt
10 g Protein powder, low carb and low fat works best. Any flavor works with this recipe. This recipe calls for Ascent Vanilla Casein Protein
30 g Banana, ripe
15 g Rolled oats
10 g Peanut butter (switch for PB2 for lower fat)
5 g Lite syrup (butter, maple or pancake syrup) OR 5 g honey
Share:
Tags: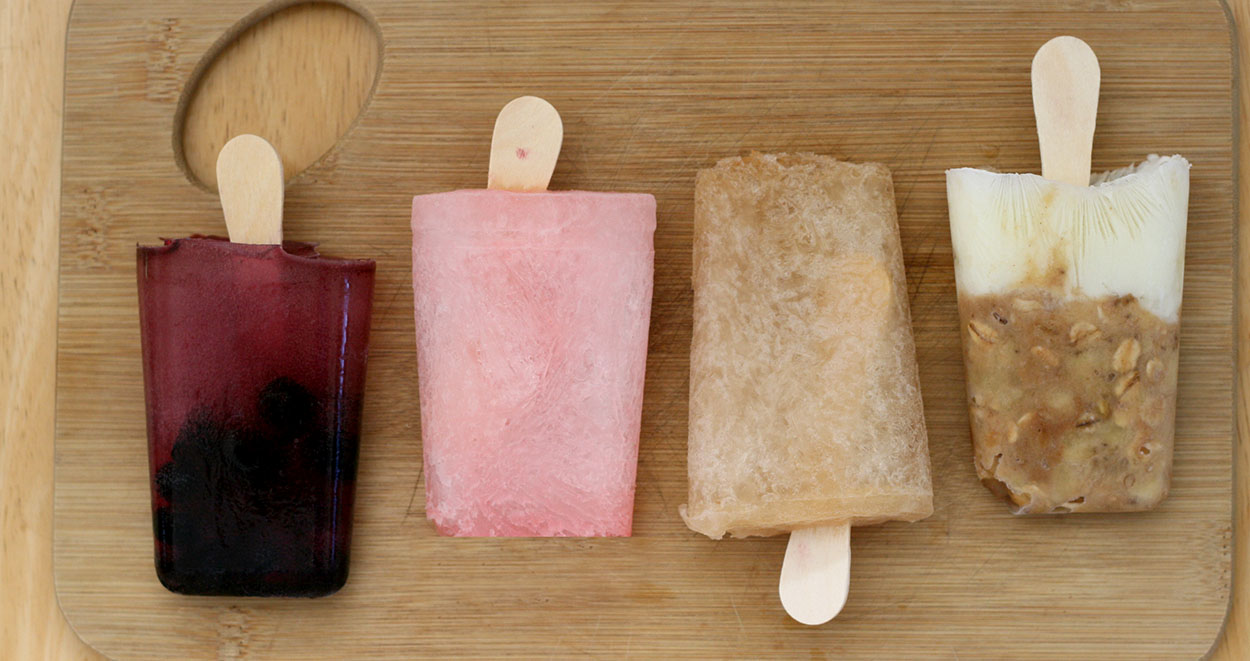 The dog days of summer are here, and with that comes the heat. Try these homemade popsicles for a low-calorie cool down snack! You'll need: A popsicle mold. Get these at the grocery or dollar store, or buy online. Paddle pop sticks if your mold doesn't come with them. A freezer. Note: You don't need a popsicle mold to make these icy treats. An ice cube tray, toothpicks and cling film will work as an alternative.
All serving sizes are 1 Popsicle. Double the ingredients for each additional popsicle you want to make. Breakfast Pop Imagine taking a walk, driving to work or even heading to the gym on a beautiful summer's day, while enjoying a high protein, delicious breakfast in popsicle form. Sounds absolutely delightful. Here's how to make it happen. Soda-POP What's your favorite low/zero calorie soda? Lemonade, cola? Maybe it's FitAid or Grapefruit Sparkling Ice (pictured)! Popsicle it! Electro-POP Enjoy a hit of electrolytes on a hot day by freezing your sports drink. Oh, and shout out to that extra gram of fiber from the berries in this recipe! Kombucha POP Attention Kombucha fans! Grab your favorite bottle and turn it into a frozen treat!
Instructions
Place banana, oats, peanut butter/PB2 and lite syrup in a bowl and microwave on high for 30 seconds. When soft, stir to combine.
In a separate bowl, combine yogurt and protein powder. The protein powder stops the yogurt from becoming icy and unpleasant in texture. So the importance of the protein isn't necessary to make it a high protein breakfast, it's to give it that 'ice cream' consistency.
Place the banana oat mix into your popsicle mold first. Be sure to stuff it in there so it all fits and molds nicely. Top up the rest of the mold with the yogurt mix.
Place the popsicle sticks in and freeze overnight!
To remove the popsicles, you may need to run a little warm water or leave them on the kitchen counter for a few minutes so that they slide out easily.
Recent Posts: