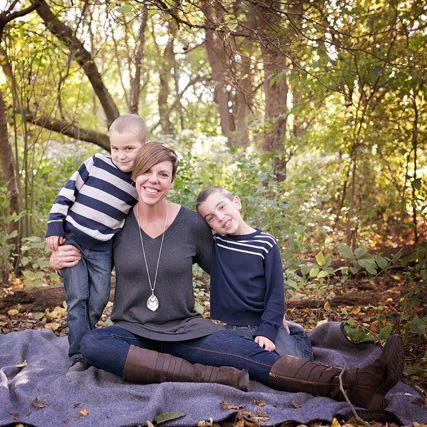 Goal
I'd originally thought it was to lean out because I didn't know what I really wanted. Now it's to be strong, lean and fast!
Testimonial
I came to WAG as a CrossFit "athlete" that ran 25-30 miles per week while doing CrossFit classes 6 days per week. I was lean but was wanting to see more muscle since I was putting in so much work exercising. I have a history of weighing over 200#. I lost about 70# through becoming anorexic/bulimic. Needless to say, I was horribly unhealthy and actually got down to less than 120# in college. In my early 20s I met my husband, Neil, and he challenged me to start participating in duathlons. We started training together and competing in triathlons and duathlons. During this time, I also attended therapy for my eating disorder and developed the coping skills necessary to achieve a balance in my eating and activity. We continued to participate in triathlons and duathlons together until our first son was born in 2009. But I was still a cardio junkie. The truth is that I was also afraid of gaining weight and felt that I needed to "out exercise" my eating. This cycle of fear based exercising continued until December 31, 2012. On January 1, 2013 my father died very suddenly of a massive heart attack. He and I were joined at the hip. I loved him so desperately and my world crumbled around me when he died. I lost the motivation to run. I lost motivation to eat. Life became mundane. I just couldn't pull myself out of the pit of despair. I kept seeing posts about CrossFit on FB and decided to check out a class. I tried it out and it nearly killed me but it was the most amazing therapy! I was able to transfer all the emotion I was feeling about my dad into moving heavy weight! CrossFit helped to change my body and I started to see hints of muscle definition here and there. But I was still terrified of putting on weight and continued my fear based pattern of "out exercising" my eating. In June 2015, my husband heard Adee on Barbell Business and encouraged me to check out the podcast. I listened to her story and fell in love with her passion for helping others! I immediately signed up and began my WAG journey in July 2015. I was honestly the fittest that I'd ever been when I started with WAG but was still a fear exerciser that wanted to see my body change. I knew I didn't need to lose weight but definitely didn't want to gain weight, either. I honestly hoped I'd magically turn into a chiseled athlete! Haha! Wouldn't that be nice? Instead, my WAG journey has been a long one that has required a lot of patience from my coach. He has walked alongside me through the mental battle of shifting my eating and exercising reality to fit my goals. My body fat needed to increase. My weight needed to increase. Both tough things for someone with a history of an eating disorder. But he has patiently walked alongside me, challenged me when necessary, encouraged me endlessly, and most importantly, has never given up on me or shamed me when I sounded like a crazy woman! Battling the fear associated with eating isn't something that's overcome quickly. It's a slow journey and I'm still making progress. I've actually never really shared my entire story with my WAG coach, Francesco. My journey on WAG and relationship with Francesco has changed my entire life. The fear is pretty much gone. I eat 145/385/65! Hear that!! I was anorexic and now I eat more than my coach! He has walked alongside me and patiently waited for me process what "progress" means to me instead of what it means to everyone else. I see all the pictures of people rocking chiseled bodies and, of course, it would be awesome if I looked like that but I don't. I know I don't have the perfect body but I also know that I have the perfect body for me. I'm comfortable in my own skin for the first time in my entire life. It's amazing. It's true freedom. It's peace. And it's something that I'll be eternally grateful to WAG for helping me achieve. My story will continue. My journey isn't over. I'm excited for where Francesco is challenging me to go! And I absolutely love the PRs that I've had in the gym! I know the best is yet to come and am overwhelmingly thankful for the journey thus far.
Get Your Coach Today!