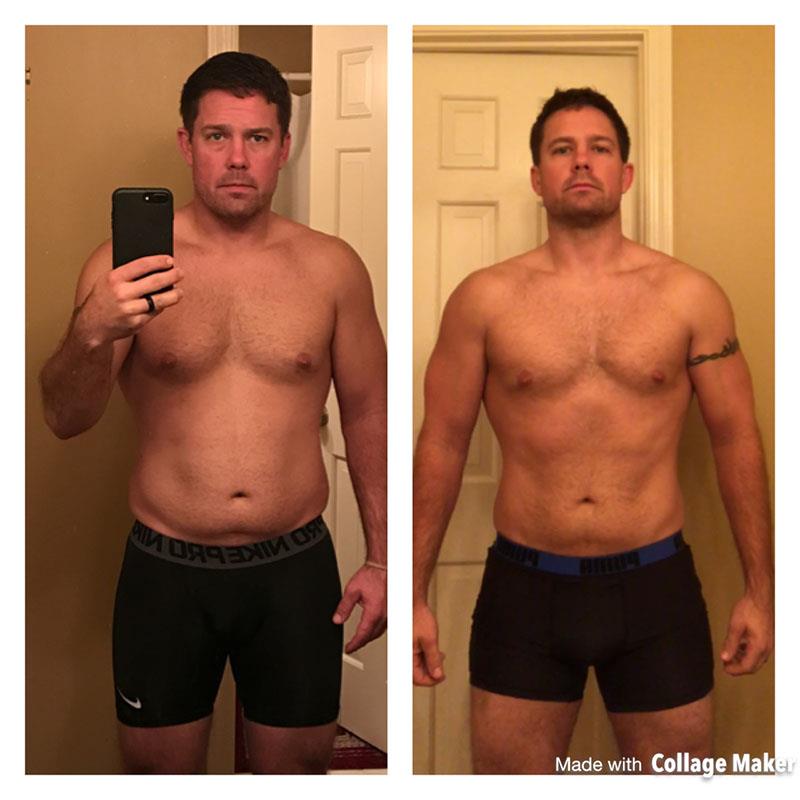 Goal
Look the way that I train.
Testimonial
My name is Jeremy Knight and I am 36.83 years old. I have been with WAG almost 12 weeks now and what a ride it's been so far. I initially started this program because I was tired of not looking how I trained. What I mean by that is I go hard in the gym, been very consistent about 5 days a week for the past 2 years, primarily doing Crossfit, however I did not look like most athletes who make that type of commitment. So in comes WAG to the rescue, or so I thought!
I started WAG around 207 lbs. with my weight spiking to 213 lbs. after a very indulging trip to Las Vegas for a conference with my wife about 2 weeks into the program. However, Vegas was not all bad, I heard a very powerful talk from Amy Cuddy about being present in life, and I didn't know it at the time or even a few weeks after that trip but that talk changed me. Around week 8 of this program, I had an "Aha" moment while talking with one of my new employees I just hired. I was explaining to him how my company will provide him with all the necessary tools and resources he would need to safely complete his work and excel within our organization. Then it hit me, holy shit, WAG does this for me, and I haven't taken advantage of it. I became a freakin sponge overnight! I quickly realized that this is MY journey. My coach (Love ya Crosby), Adee, the facebook group are all tools or resources at my disposal. It is my choice to take advantage of those resources or continue to down a stalled path. The booklists, the podcasts, the live videos, the testimonials, all provide fuel necessary for physical and mental transformation and man I am loving it.
The single biggest thing that has started me down this path of transformation is implementing a daily guided meditation. I use the Headspace app, 10 minutes a day, its magic!!! I credit this to a Projekt Possible Podcast that Adee and Michael Cazayoux were on speaking about meditation and I became intrigued enough to try it. Two books that have also helped me tremendously are "The Untethered Soul" by Michael Singer and of course, "Daring Greatly" by Dr. Brene Brown.
I am currently at 196 lbs., so around 17 lbs. lost. In the past few weeks, I have PR'd my back squat, snatch, clean, 1 mile run, and for the first time ever I ran a 5K. I am happy to say that through the support of my loving family (beautiful wife, knarly son, outstanding daughter, 4 dogs, 2 cats) that I am now nicotine (3 months) and alcohol (1 month) free. WAG has done so much more for me than be a physical or nutritional blueprint. I love everything about it, and the beautiful community it has created!!! The best is yet to come….
"Man's mind, once stretched by new ideas, never regains its original dimensions." – Oliver Wendall Holmes
Get Your Coach Today!