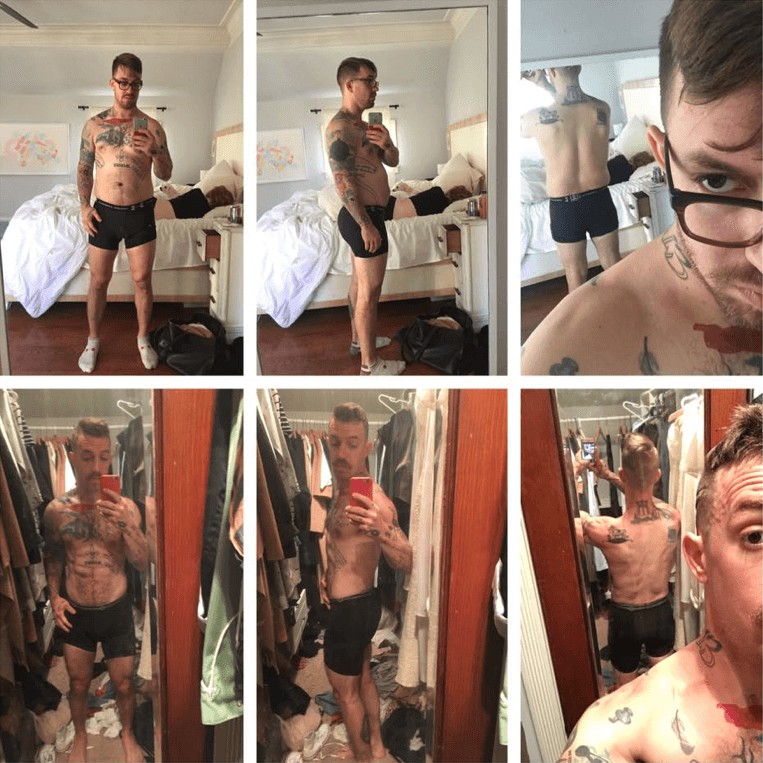 Goal
Initially, my goal was to cut down to 77k, and then lean out as much as possible before bulking back up to whatever felt like the best competition weight for me, LEAN. I've only just began the muscle building portion, as in, this morning I got new nu
Testimonial
I lost 30lbs on the dot in 6 months, without losing much on any of my lifts, just a touch at the end, but that was intentional, just to shed the bodyfat. Overall review of the program with as much detail as you feel necessary (positive comments are welcomed and encouraged):
This program has been fantastic for me; I've always been super attentive to food, at least when I'm in training mode...after years and years of Paleo (I was Paleo OG, as in, I was into it before I even knew what Lifting or CrossFit was, back in about 2005), I finally decided to lose the dogma and admit that I'd been stagnant, in terms of body comp, for a long time, since I had first started to eat "healthy" and train. Many of my weightlifter friends had been going on about flexible dieting, and I decided to give it a whirl; WAG stuck out because of the emphasis on Weightlifting in the community, and some good feedback, of course I can't remember who it was now!
I was SUPER tentative going in, coming from all the paleo years, and having been on split that probably looked something like 220p/80c/150f, though I couldn't say for sure. I was also averse to extra cardio, especially the Medium Intensity Steady State, longer sessions. Immediately though, as in within the first week, I noted my energy levels getting way, way better, and I actually felt fresher on a deficit for the first few months than I had gaining weight Paleo. Carbs have become my dear, dear friend, and I like doing conditioning now! When I do things, I do them all out, so save the occasional night where I'd get a little crazy, have a party, or get overloaded by stress, I nailed my numbers on the regular, and wouldn't you know it? Science works! I dropped roughly 1lb/week the entirety of the 6 months I cut. It was really amazing, just like clockwork.
Like anyone else, my weight dropped, abs appeared, (little back abs, too!) and for the most part, I've been able to keep the weight on the bar. While I lost a few kilos on lifts, and just a few, at that, at the tail end of those 6 months, there is no doubt that I am WAY stronger in terms of bodyweight to lifts than I was prior to starting. But beyond these obvious, flashier goals, I'd say this program has changed my quality of life, dramatically. The writing/mindfulness exercises which come weekly come easy to me (I'm a writer, as well as a lifter/gym owner), but tehy've been really helpful for rearranging my mental relationship with food. I have no time for shame in my life, or in my psyche, but this was not so with food. The more I've tracked, thought about how I relate to eating and living, the more I've been able to clinically regard food as simple fuel, that just so luckily happens to taste amazing; why would I over/under do it, armed with all this knowledge and motivation?
My coach, Ivette, has been invaluable in the process, always being attentive and responsive, helping me understand the context of our plan, but also carefully not overloading me with too much info at once; over time, I've come to understand the process quite well, but her guiding hand has been a major stabilizer. I intend to keep working with her for some time, even though at this point I've learned to generate macros for others as well (mostly athletes I coach/train at my gym). It's much better to have someone tracking accountability, for sure, if one is privileged enough to afford it.
Additionally, my improved body comp has carried over, bigtime, into mobility and movement patterns. My body works much more efficiently than it did when I started, at the time having taken years off of training until recently, and walking around with tons of tweaks and injuries from playing 2 sports through college and training thereafter. I don't walk around with aches and pains, just striaght up soreness, and I am quite certain that my improved body comp and less overkill on protein/fat in my diet have contributed dramatically to this.
Before WAG, I had gravitated away from the sport I love (Weightilfting) for 5 years; I had just come back, and was not feeling great yet, and out of shape. Now, I've just opened a Barbell Club near where I live in ATL, my lifting is on point, my body looks good (something I've never really said in earnest), and it feels better. I love this program.
Get Your Coach Today!