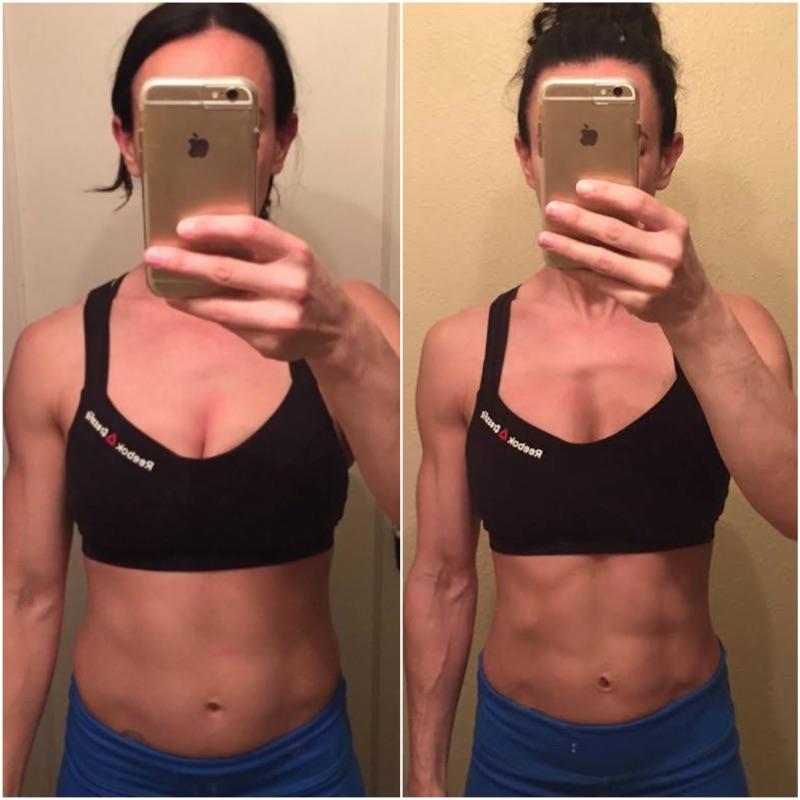 Goal
Look and feel great, get stronger and leaner, fuel my body correctly and reduce injury and sickness.
Testimonial
When I started WAG I really wanted to challenge myself to try something new and see if there was a better way to eat, fuel my body for CrossFit and enjoy life more. I have always loved working out and cooking, and thought of myself as a pretty healthy individual. I was strict Paleo for a few years prior to starting WAG but still felt like something was missing. It was a fine line because I am a small gal at 5'1" and starting at 115 pounds, but I knew I was capable of feeling and looking better but didn't necessarily need to lose weight. I had a secret secondary goal of earning some abs - I knew they were there somewhere!
After starting the program I began to realize that I had a form of disordered eating, in that I put foods into 'good' and 'bad' categories and restricted myself to only eating things that fit into the Paleo realm. I often denied myself things I really missed or had emotional connections to like pasta and risotto that my Italian family would enjoy at the holidays, or a fresh-made donut every now and then at the local bakery. Now that I have been on WAG for 10 weeks I came to the realization that is not the most healthy way to think or live. My body was missing important nutrients like fiber in whole grains, probiotics from the dairy in yogurt, and my mentality of self denial and restriction was also not healthy and was contributing to a negative mindset with food and a resentment to those around me eating those foods I missed. I was also eating SO much fat on Paleo - I had no idea until I started counting fats. I loosened the reigns a bit in order to get the most out of the program and I am so glad I did.
My body has responded really well to the changes by having the correct balance of macros, and my mentality has improved dramatically. My jobs are stressful and often suck the life out of me, and I have very little time to devote to myself with only 1 day off per week. This program has given me a breath of fresh air and a new perspective. Not only can I keep up a healthy relationship with food, but I can see that there is more to life than work, and that I need to enjoy the people around me, take some more vacations, try some new things, and perhaps even open the door to other opportunities around me.
I do not want to fool anyone. This program has been one of the hardest adjustments I have made in my life. There is a ton of accountability, lifestyle changes, math (my nemesis), and being uncomfortable while your body and mind find the balance. The first few weeks were agonizing as I tried to make everything fit into my new macros, adjust from my Paleo diet and find more flexibility, count things before I ate them, and deal with social settings. Roadblocks are around every corner. Traveling is tough, working meals around meetings is tough, and eating with friends and family is tough. My family would raise an eyebrow when I brought my food scale over to their house for football Sundays, asking 'how long are you doing this?' or 'when is this over?'. My mom, who shows her love through cooking for us, would pile up my plate with food, and I would have to go over and deconstruct it and make it smaller, which made me die a little inside at first, in fear I was hurting her feelings. I swear my family thought I was starving myself, but I explained my goals, my reason for doing it and I *think* they understand, but have been really supportive nonetheless. One cool bonus: I always finish my plate now! No food waste here. And if I want that amazing donut from the local bakery once in awhile, I have it now. I make it fit into my day, adjust the rest of my meals accordingly, and I don't feel guilty about it, because I am now in a place where I know I can be consistent, accountable, and in charge.
My takeaway is this: If anyone is on the fence, give WAG a shot. If you really dedicate yourself to it and are honest with yourself, it will change your body, your health, your mentality and may even open the door to new opportunities you hadn't thought of before. I am only 10 weeks in and looking forward to more. Special thanks to my coach Alexa!
Get Your Coach Today!