Calories
161
Fat
5 g
Carbs
22 g
Protein
7 g
Serves
9 (serving size = 57 g)
14 g coconut oil
1 large egg, room temperature
1 tsp vanilla extract
1/4 tsp salt
60 g 2% plain Greek yogurt
45 g coconut sugar
45 g honey
60 g nonfat milk
60 g unsweetened cocoa powder
60 g all-purpose flour
30 g vanilla casein protein powder
30 g mini chocolate chips
1/4 tsp baking powder
15 g white chocolate chips or chunks
75 g raspberries
Share:
Tags: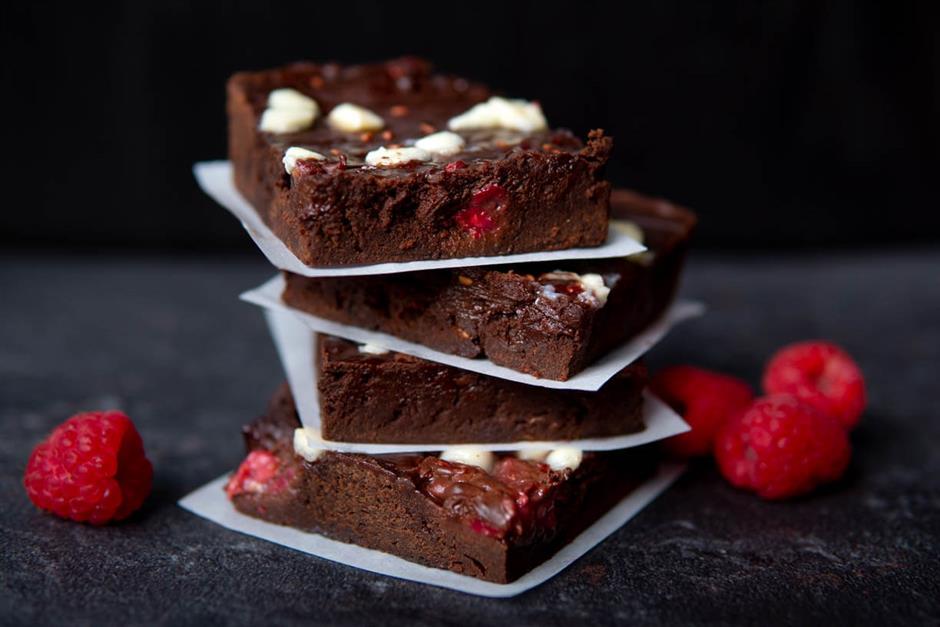 Calling all fudgy brownie lovers: these white chocolate raspberry brownies are for you! In addition to adding a little casein for a protein kick, we lightened up these brownies by using 2% Greek yogurt in place of traditional butter. We also cut the amount of overall sugar, which makes these brownies super chocolatey but not overly sweet.
Because of the nontraditional brownie ingredients, you'll want to read the recipe carefully before mixing everything up. Order of ingredients is important, as is first using a whisk instead of a spoon. Take care not to overbeat the batter, and definitely don't overbake.
Instructions
Preheat the oven to 300 F. Spray an 8-inch square baking pan with nonstick cooking spray.
Combine the flour, casein protein powder and baking powder in a bowl. Set aside.
In another bowl, whisk together the coconut oil, room temperature egg, vanilla, and salt. Stir in the Greek yogurt, whisking until no large lumps remain. Stir in coconut sugar and honey, then stir in the milk. Add in the cocoa powder, whisking until all the cocoa powder is incorporated and the mixture is smooth and glossy.
Set the whisk aside and switch to a wooden spoon. Stir in the flour/casein mixture until about half the mixture is worked in. Add the chocolate chips and continue to stir until all the flour is incorporated. Do not overmix. Gently fold in raspberries, letting some of the raspberries break down a bit so you have a little bit of raspberry in each bite.* The batter will be very, very thick.
Spread batter into prepared pan, and gently press the white chocolate into the top. Bake for exactly 15 minutes—the batter will not look fully set when you first remove it from the oven, but the brownies will continue to cook in the hot pan. Let the brownies cool completely at room temperature in the pan. Resist the urge to cut into them when they're still hot! For the fudgiest texture, let the brownies sit for at least 6 hours at room temperature. Store in the fridge or freezer.
*Try to avoid big clumps of raspberries, otherwise the brownies won't hold together when you cut them.
This guide is jam-packed with everything you need to know about nutrition.
From tracking macros to meal ideas.
Recent Posts: