Calories
160
Fat
4 g
Carbs
25 g
Protein
6 g
Serves
9 (serving size = 55 g)
1 can of no-salt chickpeas, drained but NOT rinsed, with 3 tablespoons of chickpea water reserved
60 g cashew butter
60 g all-purpose flour
55 g brown sugar
30 g vanilla-flavored vegan protein (this recipe was tested using Vega Sport brand)
2 tsp vanilla extract
1 tbsp cinnamon
1 tsp salt
1/2 tsp baking soda
1/4 tsp baking powder
Nonstick cooking spray
30 g powdered sugar (for glaze)
1/2 tsp vanilla extract (for glaze)
1/2 tsp lemon juice (for glaze)
1/2 tsp nut milk (for glaze)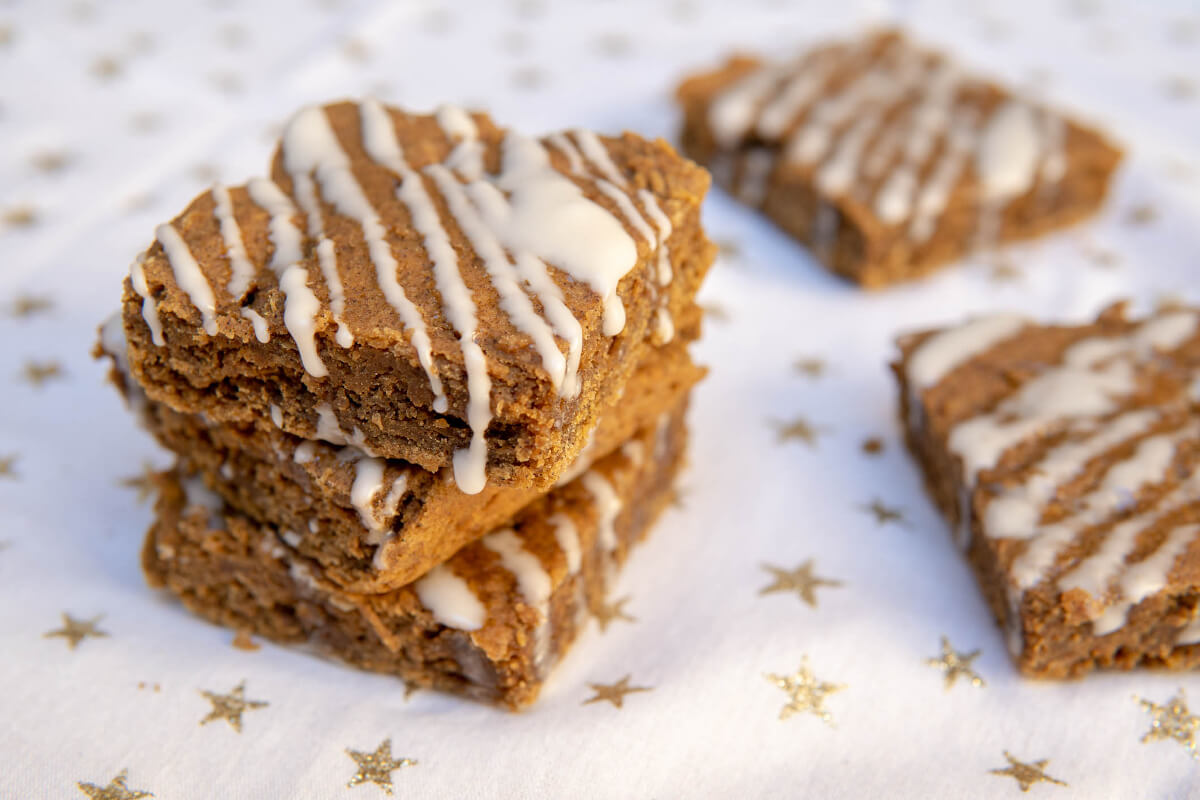 Chickpeas? In a dessert? Oh yeah! These cinnamon roll blondies are perfect for when you want to get in some extra protein but also want an indulgent, bake-ahead dessert. With loads of cinnamon and tangy lemon but no butter, eggs, or oil, even the carnivores will be coming back for more—and no one will ever know that chickpeas are the main ingredient.
Note that when you're preparing the chickpeas, do not rinse the beans, and make sure to save the liquid. The chickpea water, known as aquafaba, acts as an egg replacement and keeps the blondies soft and slightly crumbly.
Instructions
Preheat the oven to 350 F.
Place all the ingredients in a food processor (including 3 tablespoons of the reserved chickpea liquid) and blitz until just combined. The mixture will be very, very thick, but do not overmix the dough—a few chunks of chickpeas are fine.
Spray a 9x9 baking pan with nonstick cooking spray and add the dough to the pan, making sure to spread it evenly with a spatula or your fingers. Bake for 20–25 minutes, until the top is slightly springy and a toothpick comes out nearly clean. Even if the dough seems a little underdone, take it out of the oven, otherwise it will dry out. Let cool.
When the dough is completely cooled, cut it into pieces. Then stir together the powdered sugar, lemon juice, vanilla and nut milk for a simple glaze. Drizzle over the blondies and serve immediately.
---
You Might Also Like