Calories
149
Fat
1 g
Carbs
11 g
Protein
24 g
Serves
1/4 of recipe
400 g ahi tuna
200 g pineapple, medium dice
100 g red onion, small dice
50 g jalapeño, small dice
10 g cilantro, chopped
Juice of 1 lime
Salt
Share:
Tags: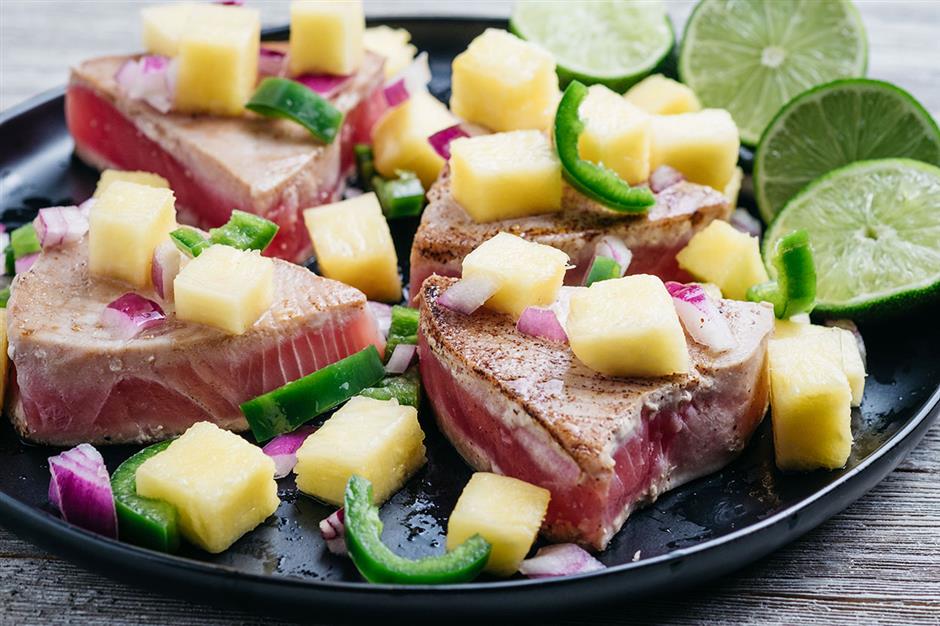 Get a jump start on summer with this tropical recipe, slam packed with protein and flavor.
Instructions
Heat a non-stick pan over high heat, lightly coat with cooking spray. Season tuna with salt and sear on on all sides. Reduce heat to medium and cook until preferred doneness. Set aside and let rest.
Dice pineapple into ¼-inch chunks and dice red onion into ⅛-inch pieces. Remove the seeds from jalapeños and dice in to ⅛-inch pieces. If you don't like spice, skip the jalapeños!
In a small bowl, combine the pineapple, onion and jalapeño and cover with lime juice. Gently stir in cilantro before serving, salt to taste.
Slice tuna into ½-inch pieces and serve with 1/4 of the salsa.
Pro Tips: The lime juice and pineapple juice also doubles as a salad dressing (eat your greens!). Throw the pineapple on the grill for some added flavor.
Recent Posts: