Calories
321
Fat
9 g
Carbs
30 g
Protein
30 g
Serves
4
60 g onion, diced
300 g eggplant, chopped into small cubes
450 g / 1 lb sweet potato (boil and mash)
450 g / 1 lb lean ground beef; we used 93% lean
1 tbsp Greek spice blend (Or use a mix of whatever dried herbs you have in your pantry.)
1 large egg
200 g nonfat Greek yogurt
Share:
Tags: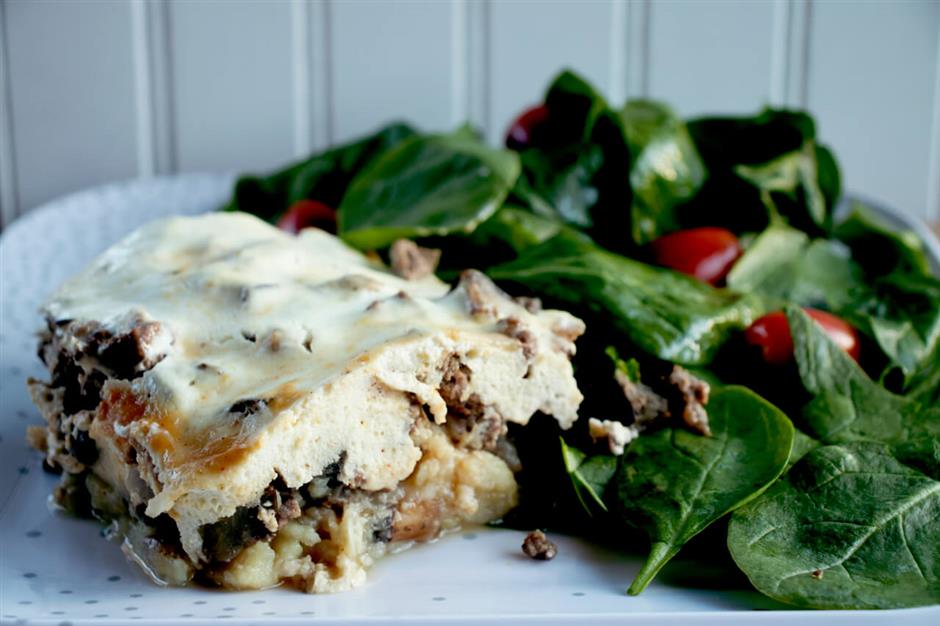 I grew up in a pretty European part of town and getting together with my Greek friends always meant partaking in a serving of moussaka. I had to find a way to bring it back into my life!
This recipe turned out to be not only super macro-friendly but worthy of being added to my regular meal rotation. My sister and I now cook it for friends and family!
Did I mention it's extremely easy? Especially if you're using sweet potato, it makes the perfect hassle-free moussaka base. The hero of this dish, however, is the yogurt topping. It is brilliant, you HAVE to try it.
Instructions
Preheat oven to 350 F. Prepare an 8-inch square or circular baking pan or dish. You should not need to line or grease the pan for this moussaka recipe.
Prepare your vegetables and set aside.
Heat a large pan to high heat and add onion, eggplant and ground beef. Break up the ground beef with a wooden spoon and mix thoroughly. You're only trying to brown the meat and break it up, so don't worry about how cooked through it is. You're going to put it in the oven to finish off.
While the pan is simmering, in a separate bowl whisk the yogurt and egg together.
Then, take your prepared 8-inch pan and spread the sweet potato evenly to create a delicious base for your moussaka.
Next, remove the simmering pan of ground beef from the heat and strain. You want to remove all liquid from the mix to ensure that the moussaka is not soggy. Give your strainer a few shakes to make sure all the liquid is out.
Spoon the ground beef evenly over the potato and pat down gently.
Then add the yogurt mixture to the top, evenly spreading it to cover the surface. Bake in the oven for 20 minutes so the yogurt will set.
Use a spatula to cut into the moussaka and serve! It should hold together nicely. This moussaka can be kept in the fridge for leftovers and reheated! If you really want to be accurate with your macros then make each serving in single ramekins.
I want to see your versions of this dish, so if you make it be sure to take a snap and tag us on Instagram! #TeamWAG
Recent Posts: