Calories
563
Fat
19 g
Carbs
54 g
Protein
44 g
Serves
2 (serving size = 295 g)
500 g sweet potato, cut into 1-inch cubes
240 g boneless, skinless chicken breast
5 garlic cloves, peeled
28 g canola oil (or other neutral cooking oil)
2 tbsp soy sauce
1 tbsp apple cider vinegar
1 bay leaf
1 tsp turmeric powder
55 g queso fresco
1/2 cup fresh cilantro, chopped
The juice of one lime
Salt
Share:
Tags: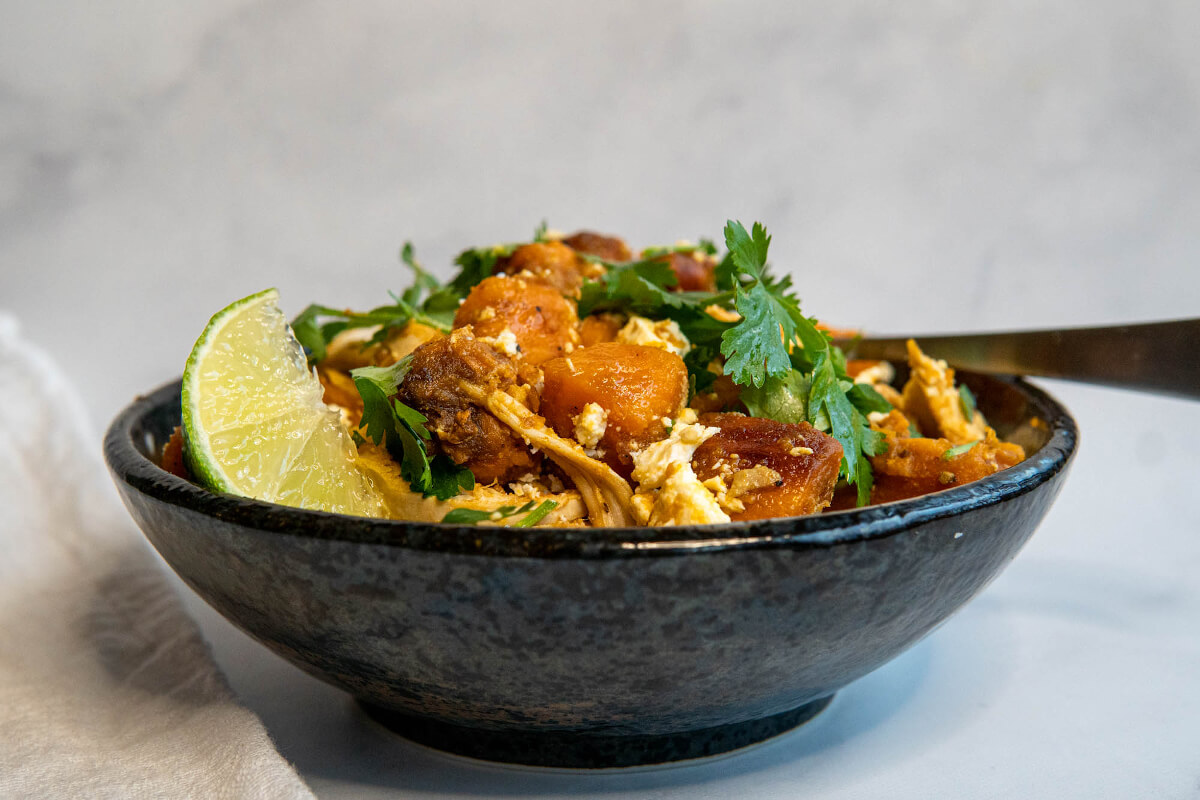 Nutritious sweet potatoes, lean chicken breast and a punch of bright lime mingle together in our sweet potato and chicken bowl with queso fresco and lime.
Instructions
Bring a large pot of water to a boil. Add enough salt to the water so it tastes like the sea.
Meanwhile, peel your sweet potato and dice it into 1-inch cubes.
Add the cubed sweet potato, raw chicken breast, peeled garlic cloves and bay leaf to the boiling water. Cook for 12–15 minutes, or until the chicken breast is fully cooked and the sweet potatoes are soft but not mushy. (Depending on the thickness of your chicken breast, you may need to remove the sweet potatoes with a slotted spoon and give the chicken a minute or two more.)
Remove the chicken breast with tongs and set it aside to cool. Strain the potatoes and garlic and discard the cooking water.
Heat the cooking oil in a large frying pan over high heat. When the oil is hot and shimmery, add the potatoes and garlic to the pan. Let them brown, stirring occasionally. When the sweet potatoes are brown, add the turmeric powder, soy sauce and vinegar to the pan. Quickly toss everything together and transfer the mixture to a large bowl.
Shred or dice the chicken breast and add it to the bowl with the sweet potatoes. Squeeze the juice of one lime over the top and toss everything together. Portion out into bowls and top with queso fresco and chopped cilantro.
Can't find queso fresco? Any mild, fresh cheese will work. Try cojita, ricotta salata, Monterey Jack or feta.
Recent Posts: