Calories
166
Fat
6 g
Carbs
4 g
Protein
24 g
Serves
6
Serving Size
108 g
680 g (1.5 lbs) 93% lean ground turkey
43 g (1 medium) shallot or red onion, diced into 1/4" pieces
6 g (2 cloves) garlic, minced or pressed
10 g fresh ginger, grated
40 g soy sauce or tamari
45 g sriracha
20 g light mayo
Zest of 1/2 a lime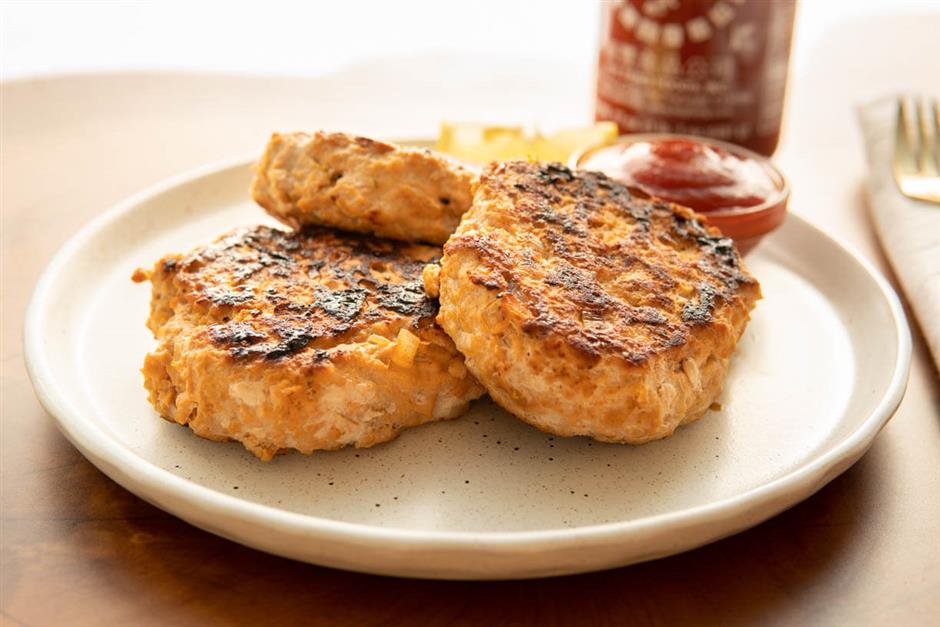 Never settle for a dry, hockey-puck turkey patty again! Our sriracha turkey burger patties are dripping with tenderness and packed with flavor thanks to sriracha hot sauce, fresh ginger and lots of lime zest. Whether you want to pair the patties with a bun and your favorite toppings (like our WAG Creamy Avocado Slaw) for a crowd-pleasing burger, crumble the patty on top of greens for a low-carb lunch, or just eat the patty right out of the fridge for a high-protein snack, these burgers will keep you going and fill those protein macros all week long.
Note that these burger patties are best prepared on the stovetop, not a grill. In order to keep the meat nice and juicy, the raw turkey mixture contains more moisture (and is therefore more delicate) than typical burger patties, which means the mixture may fall through the slats of a barbecue grill.
Instructions
Add all the ingredients into a large bowl and use your hands to mix everything together until the turkey mixture is evenly combined.
On a large plate or baking sheet, portion the turkey into six 140 g patties. The mixture will be wet and soft, so simply plop the portioned mixture onto the plate and use your fingers to shape it into a 1-inch-thick patty. Place the raw burgers in the freezer, uncovered, for a few minutes while you heat up a frying pan.
Heat a large cast iron or nonstick skillet over medium heat. When the pan is hot, remove the burgers from the freezer and use a spatula to gently slide them one at a time into the pan. If the burgers lose their shape as you transfer them to the pan, simply use your spatula to mold them back into shape. (Depending on the size of your skillet, you may need to do this in two batches. Keep the raw patties in the freezer while they wait to be cooked.)
Let the burgers cook for 5 minutes—they should be dark brown but not burned underneath. Then carefully flip each burger and cook for another 5 minutes, or until the inside of the burger reaches 165 degrees or is no longer pink. Remove the burgers from the heat and enjoy.

If you decide to freeze the raw, portioned burger patties for later use, let the patties thaw overnight in the refrigerator before cooking.
This guide is jam-packed with everything you need to know about nutrition.
From tracking macros to meal ideas.
---
You Might Also Like