Calories
66
Fat
2 g
Carbs
8 g
Protein
4 g
Serves
10 (serving size = 75 g)
2 cloves garlic
1/2 tsp salt
1 x 15 oz can of chickpeas, drained
140 g 2% plain Greek yogurt
1 x 12 oz jar of marinated artichoke hearts, drained (about 200 grams of artichokes)
1 x 10 oz box of frozen spinach, thawed and drained (about 175 g/1 cup after draining)
The juice of 1 lemon
1/2 tsp red pepper flakes
Share:
Tags: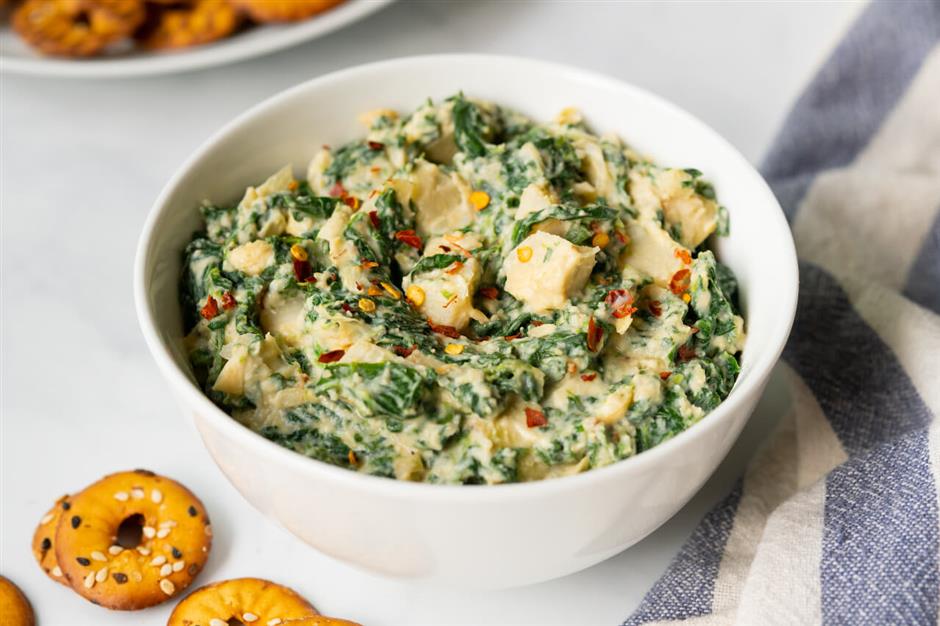 If garlicky spinach and artichoke dip and hummus had a baby, this would be the delicious result. Spread it on crackers, roll it up in a wrap or slather it on top of chicken breasts.
Instructions
Place the defrosted spinach in a paper towel and squeeze to remove any excess water. Roughly chop the spinach and the artichokes.
Blitz the garlic and salt in a food processor until it sticks to the side of the bowl. Scrape the bowl down and add the drained chickpeas and Greek yogurt. Pulse until smooth.
Transfer the hummus to a bowl and add the chopped spinach, artichokes, the juice of one lemon and red pepper flakes. Stir until combined and add more salt, pepper and lemon juice to taste.
Store in an airtight container in the refrigerator.
Keep in mind that the macro counts for marinated artichoke hearts vary widely depending on whether or not the artichokes are marinated in oil or water, so your macro count may vary. Marinated artichokes can be found in the canned goods aisle or in the pasta section of the grocery store.
Cooking healthy but still not seeing results? Join our Flexible Dieting Crash Course to gain a solid understanding of the basics of nutrition and how to use that knowledge to finally reach your goals.
And if you decide to join WAG's nutrition program at any time during or after the course, we'll apply the price you pay for this course to the cost of your membership! Learn more and sign up here.
Recent Posts: