Calories
210
Fat
6 g
Carbs
14 g
Protein
25 g
Serves
4 (serving size = 135 g)
1 lb extra lean ground pork (the macros for this recipe were calculated using Farmer John brand)
45 g uncooked sushi or jasmine rice
3 scallions, thinly sliced
40 g shallot (1 medium), thinly sliced
2 tbsp fish sauce
2 tsp dried Thai chili powder (prik bon) OR 1-2 fresh Thai chilis
1 tsp sugar
1-2 limes, juiced
½ cup roughly chopped cilantro leaves
½ cup roughly chopped mint leaves
Salt & pepper to taste
1 head of lettuce, for wrapping
Share:
Tags: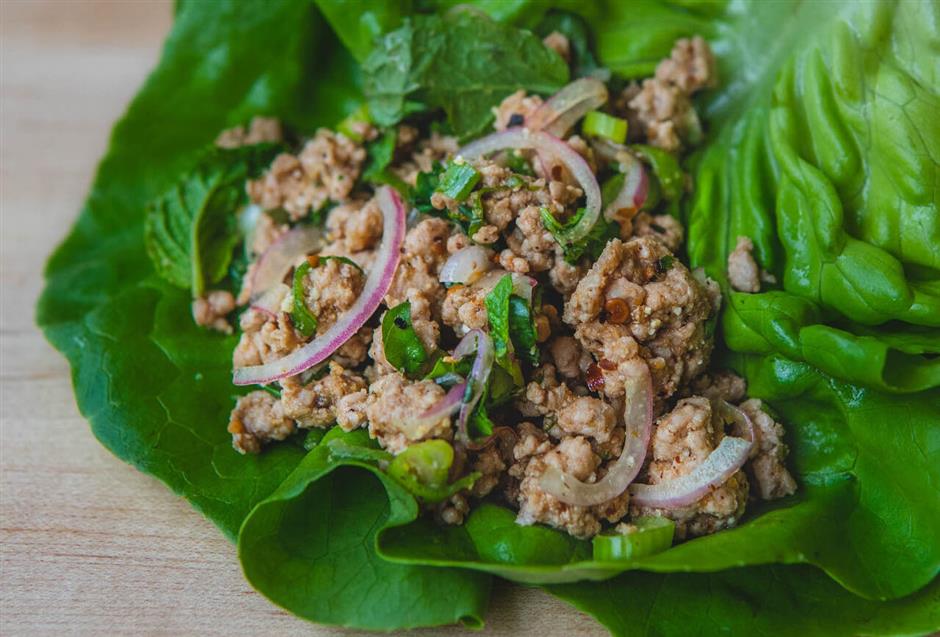 Our macro-friendly version of this spicy, herbaceous Northern Thai dish (referred to as laab, larb or laap) sticks to the traditional use of pork, but you can also substitute chicken, beef, fish or tofu.
The real secret is the toasted rice powder, which gives laab its signature crunchy texture. Then, top it off with a pile of fresh herbs to cool down the spice, and get ready to use this as the source of your meal prep for at least two or three days—if it will last that long in your household.
Instructions
To toast the rice, add the uncooked rice to a frying pan over medium heat (do not spray the pan with cooking spray). Regularly shake or stir the rice until it is evenly golden brown, about 5–10 minutes.
When the rice is golden, remove from heat and let it cool for a few minutes. Then, using a spice grinder, food processor or mortar and pestle, grind the rice into a powder-like substance. Set aside.
Cook the pork in a frying pan over medium-high heat, using a spatula to break up the large bits, until no pink remains. Remove frying pan from heat and add the fish sauce, chili and sugar directly into the hot pan. Toss to combine. Transfer the mixture to a bowl and add the lime juice, scallions, shallots, cilantro and mint.
Spoon the laab into lettuce leaves and serve it with sticky rice. Just be sure to calculate the macros for the rice on the side!
Thai food is all about a balance of flavors, but remember, you can always adjust those flavors to suit your taste. If you prefer sour, add a little more lime juice. Want more spice? Add a few dashes of hot sauce.
This guide is jam-packed with everything you need to know about nutrition.
From tracking macros to meal ideas.
Recent Posts: