Calories
70
Fat
2 g
Carbs
9 g
Protein
4 g
Serves
11
Serving Size
67 g
535 g steamed kabocha squash (yield from a 877 g whole, uncooked squash)
48 g PB2
21 g tahini
32 g soy sauce
30 g lime juice
30 g chili garlic sauce
12 g (1) scallion, roughly chopped
16 g peanut butter
3 g ginger, grated
1–2 red Thai chilis (optional)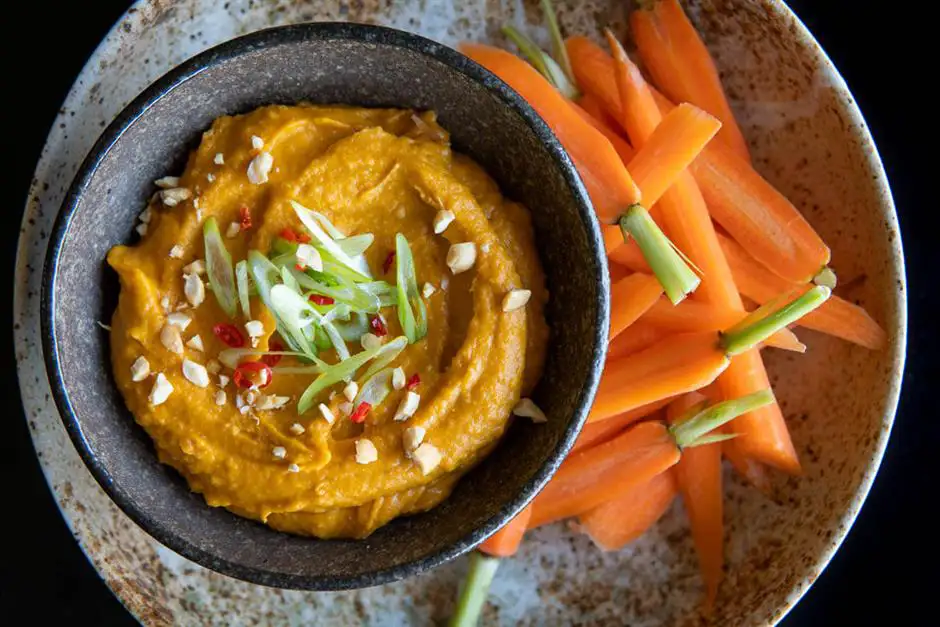 Made with uber-macro-friendly kabocha squash (also known as Japanese pumpkin), this rich and creamy dip has all the hallmarks of hummus, but without loads of olive oil and carb-heavy chickpeas. Asian grocery stores (and many standard grocery stores) will carry kabocha squash, but if you can't find it, buttercup squash, butternut squash or even a standard sweet potato will do (but you'll have to adjust your macros).
Instructions
Place the whole kabocha squash in the microwave and microwave it on high for 2–3 minutes to soften its skin. With a sharp knife, cut the squash in half and scoop out the seeds. Cut the squash into 2- to 3-inch chunks.
Fill a dutch oven or large pot with a few inches of water and bring to a boil. Place the squash chunks in a steamer basket or colander and place the basket or colander in the pot, making sure the bottom of your steaming device doesn't touch the boiling water. Cover the pot with a lid (or foil) and let the squash steam until tender and soft. Depending on the size of your squash chunks, this should take anywhere from 15 to 30 minutes.
Carefully remove the lid (steam can burn!) and place the squash on a plate or baking tray to cool. When the squash is cool enough to handle, scrape the flesh into the bowl of a food processor and discard the skins.
Add all the remaining ingredients to the food processor and blend until smooth. Taste and adjust the seasoning to your liking. If you like things spicy, add one or two chopped red Thai chilis. If spice isn't your thing, leave them out. Top with sliced scallions and a few chopped peanuts, if desired.
If you don't have a steamer, you can roast the squash in the oven or even microwave it.
This guide is jam-packed with everything you need to know about nutrition.
From tracking macros to meal ideas.
---
You Might Also Like