Calories
206
Fat
10 g
Carbs
6 g
Protein
23 g
Serves
1
70 g mushrooms, chopped
8 g spring onions, sliced
1 egg (optional, leave out for low-fat version)
80 g egg whites
14 g (2 sprinkles) shredded cheese
Garlic powder and salt
30 g light sour cream (this recipe uses Lucerne brand)
Share:
Tags: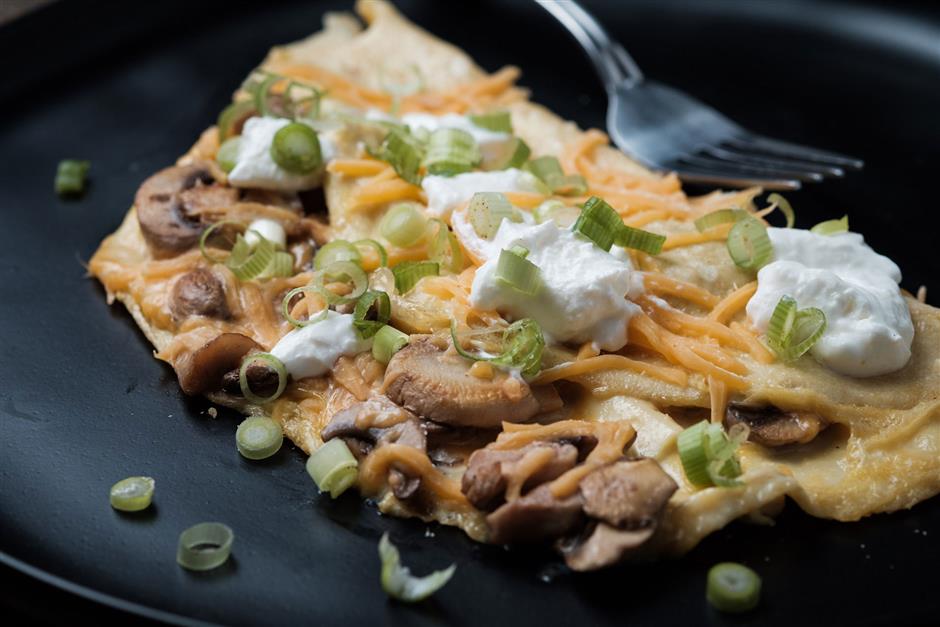 Sour cream and onion is my favorite flavor combo. But when I started learning more about the food I was eating, I discovered that my beloved sour cream and onion chips were not doing me any favors.
This omelet recipe curbs my cravings by 110% and is a great low-carb, high-protein, and moderate-fat breakfast. For an even lower fat option, use only egg whites and leave out the cheese or swap it for low-fat cheese, mozzarella, provolone, or laughing cow cream cheese! A couple of simple ingredients can change your average, everyday omelet into something super unique, and flavorful. Serving suggestion: English muffin, toast, or pan/roasted potatoes!
Instructions
Heat a nonstick pan on high and start cooking the mushrooms.
While mushrooms cook, whisk the egg and egg whites together.
If your pan needs it, add a tiny spray of oil, wait 10 seconds, and add your egg mix.
Sprinkle chopped spring onions, cheese, garlic powder, and salt to taste on top. Cover for 1 minute.
Remove from heat and add to your plate. Dollop sour cream around your omelet..
Recent Posts: