Calories
296
Fat
12 g
Carbs
27 g
Protein
20 g
Serves
1 (serving size = 170 g)
50 g smoked salmon lox
75 g WAG spinach and artichoke hummus
5 grams red onion, thinly sliced
1 x 7–8" tortilla (the macros for this recipe were calculated using Bakestone Brothers Organic multigrain tortillas)
Share:
Tags: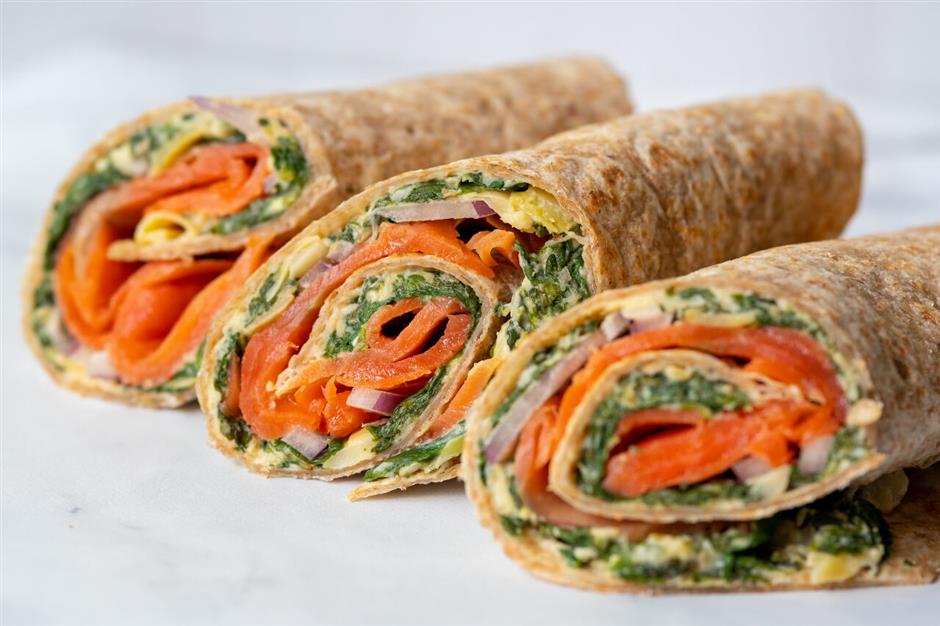 Up your lunchtime game with wraps made from our spinach and artichoke hummus, smoked salmon lox and your favorite tortilla.
Note that the macros for lox depend on the variety of salmon. We've calculated the macros for this recipe using standard Atlantic salmon lox. For a lower-fat alternative, look for lox made from sockeye salmon found in the Pacific Northwest.
Instructions
Spread the spinach and artichoke hummus across a tortilla, leaving a 1/2-inch border at the edge. Lay 50 grams of lox over the hummus in an even layer and scatter the red onions over the top. Roll up tightly and cut in half.
Store the prepared wraps in an airtight container.
Don't have time to make our WAG spinach and artichoke hummus? Buy a jar of prepared spinach and artichoke dip and a container of hummus and stir the two together! Just don't forget to adjust the macros.
Cooking healthy but still not seeing results? Join our Flexible Dieting Crash Course to gain a solid understanding of the basics of nutrition and how to use that knowledge to finally reach your goals.
Recent Posts: