Calories
284
Fat
4 g
Carbs
27 g
Protein
35 g
Serves
4
200 g Seafood mix, fresh or frozen (white seafood mix of mussels, calamari, prawns and clams from the seafood store but can substitute with any seafood you want!)
1 Whole red bell pepper, diced
70g Cherry tomatoes
3g Garlic powder or minced garlic
1 tsp. Fresh or dried fennel
100g Pureed tomato
100g Classico Spicy Red Pepper Sauce
70g Swanson Chicken Broth 33% Less Sodium
Salt to taste
Optional: A dash of hot sauce for some spice, cilantro or basil
Share:
Tags: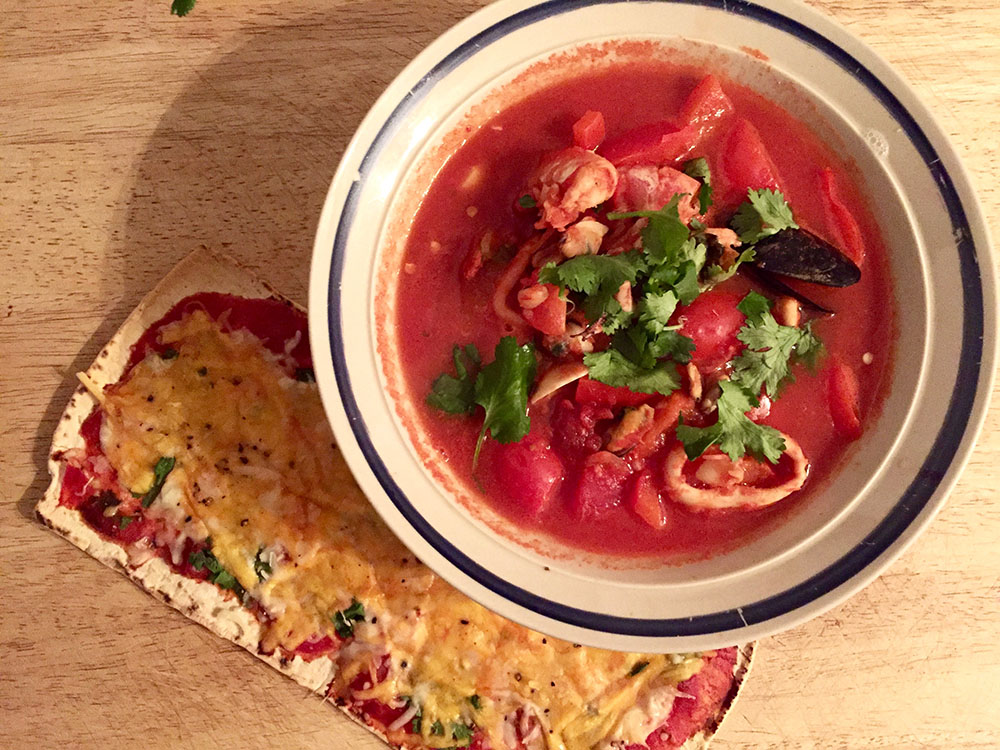 We associate eating lean meat with the usual suspects: chicken breast, egg whites, tuna. Although delicious and versatile staples for any healthy diet, they can get a little repetitive. For those who enjoy seafood, the world of lean protein opens up a little wider. Seafood is one of the easiest proteins to cook and there are so many ways you can make a lean, tasty and hearty seafood dish in under 15 minutes. Just like this delicious Cioppino! Cioppino is a flavorful, satisfying and romantic Italian stew originating from San Francisco! One huge bowl has a similar macro profile to chicken breast and vegetables, but with a million times more flavor. This dish stands on it's own served in a bowl, but also pairs great with rice or fresh/cheese bread (like in the photo).
Instructions
Heat a pot to medium heat on the stovetop.
Once hot, add garlic and seafood. If seafood is frozen cook for 2 minutes before moving on.
Add cherry tomatoes, bell peppers, pureed tomato, Classico sauce and chicken stock to the pot.
Add salt and herbs to taste. Stir pot.
Let the pot simmer for 8-10 minutes.
Serve!
Recent Posts: