Calories
531
Fat
39 g
Carbs
11 g
Protein
34 g
Serves
15 (serving size = 235 g steak + 20 g dressing + 166 g salad)
2x 10 oz strip loin steaks
135 g cherry tomatoes, halved
35 g red onion, thinly sliced
185 g belgian endive*
115 g mixed baby greens
28 g feta cheese
Optional fresh basil
60 g sherry vinegar (dressing)
90 g olive oil (dressing)
1 tsp mustard (dressing)
2 tsp maple syrup (omit for keto) (dressing)
1 garlic clove, lightly crushed (dressing)
Share:
Tags: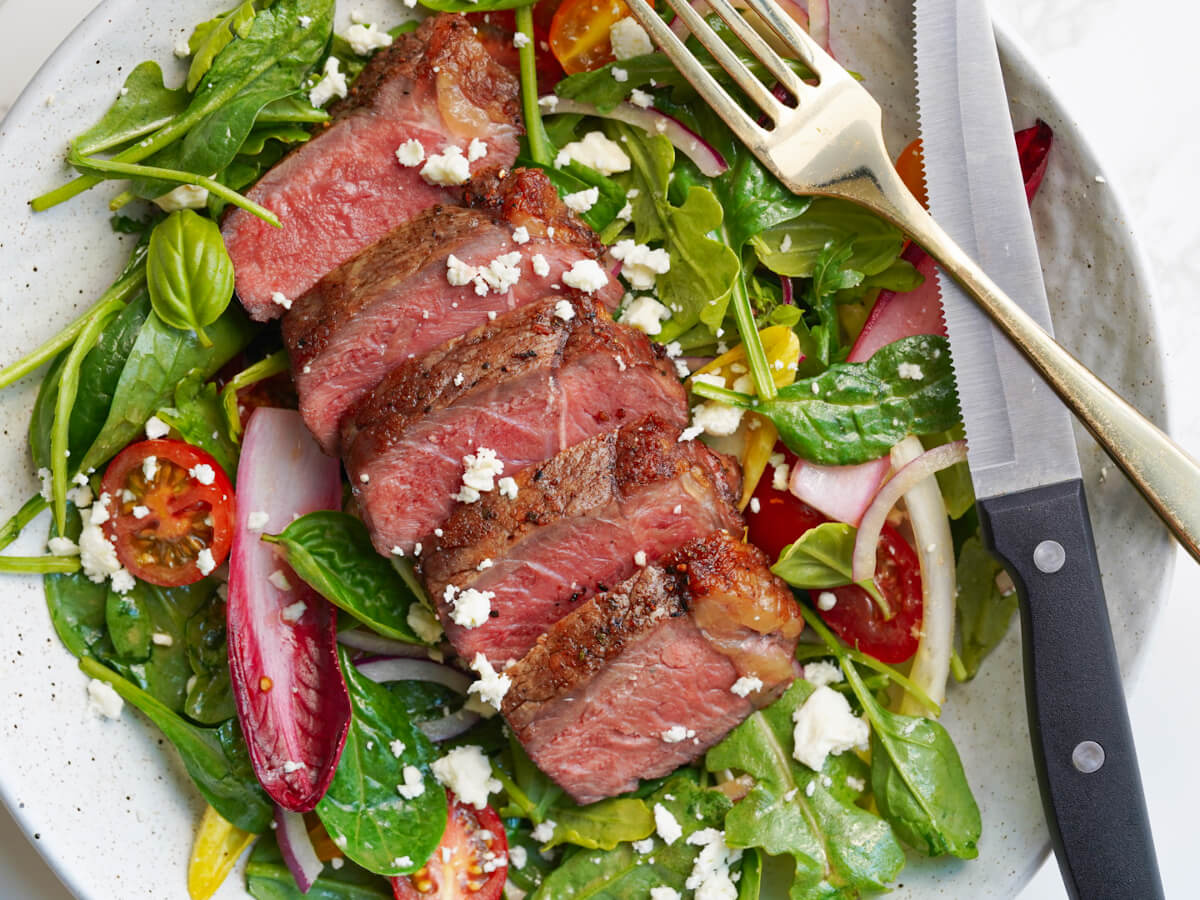 Never overcook a steak again, because the reverse sear method is the best way to cook steak—period.
The reverse sear method switches up traditional steak cookery by first cooking the inside of the steak in extremely low heat and then browning the outside over a high sear. As a result, you don't have to worry about the inside while the outside is browning. Simply let the steak hang out in a 200-degree oven for about 45-1 hour (you really can't screw this up unless you truly forget about it), or until it hits an internal temp of 125 degrees. Then, crank your stove up to high and sear the steak in a hot skillet, about 30-45 seconds per side. It should be long enough to brown, but not long enough to overcook the middle.
From there, pair the perfectly cooked steak with a simple salad and out-of-this-world garlic-sherry dressing!
Note that the macros for this recipe include 20 grams of the sherry-garlic vinaigrette. To cut back on fat grams, either use less dressing or swap it with your favorite lower fat option.
Instructions
Preheat your oven to 200 F. Generously season both sides of the steak with salt and pepper and let it rest at room temperature while the oven preheats.
When the oven is ready, place the steak on a baking sheet set on top of a wire rack. If you don't have a wire rack, you can place the steak directly on the oven rack with a baking sheet on the rack beneath it in order to catch any drippings (just make sure your oven rack is clean!). Let the steak in the oven for about 45 minutes or until it is 10 to 15 degrees below the final desired temperature.
Meanwhile, toss all the salad ingredients together in a large bowl. Make the dressing by combining the sherry vinegar, olive oil, mustard, maple syrup (omit for keto, lightly crushed garlic clove, and a pinch of salt in a jar. Shake to combine, then remove the garlic clove (or leave it in, if you want your dressing extra garlicy!)
Just before the steak comes out of the oven, heat a frying pan (cast iron is best) over high heat and generously spray it with cooking spray. When the pan begins to smoke, sear the steak until it's well browned, about 45 seconds to a minute per side. To serve, slice and portion your steak and set it atop your salad. Drizzle with dressing.
Belgian endive is a small, cylindrical head of lettuce with a pleasant, yet slightly bitter taste. It's leaves have dark purple or bright yellow-green edges. It is usually found in the prepackaged veggie section of your grocery store.
Recent Posts: