Calories
117
Fat
1 g
Carbs
19 g
Protein
8 g
Serves
4
4 oz / 113 g grilled chicken breast
300 g (3/4 packet) cooked quinoa
200 g canned beetroot, no salt or sugar added
60 g fat-free crumbled feta
25 g baby spinach leaves
Salt and pepper to taste
Optional: Squeeze of lemon
Share:
Tags: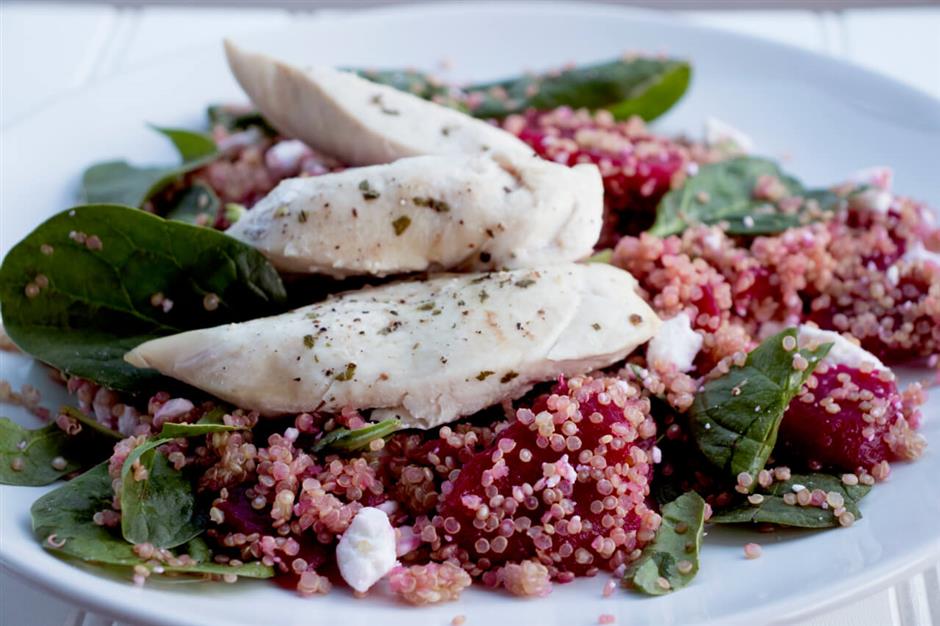 This recipe takes two of my favorite ingredients to create a super delicious salad for multiple meals a week.
For some other variations, use brown rice instead of quinoa and salmon fillet instead of chicken.
Instructions
In a medium size container, empty 3/4 of the contents of your quinoa. Break up the quinoa so there are no clumps. You can use all the quinoa if you like but I like to save some for other meals! Add beetroot, feta, spinach and salt and pepper. Thoroughly mix.
Top with chicken and serve cold! Add lemon juice or your favorite salad dressing to add fats if you need some.
Macro breakdown:
For the salad
8 g Protein, 19 g Carbs, 1 g Fat
29% Protein, 68% Carbs, 4% Fat

For the chicken
33 g Protein, 0 Carbs, 4 g Fat
80% Protein, 0% Carbs, 20% Fat 
What are some of your easy, go-to salad combinations?
Recent Posts: