Calories
148
Fat
4 g
Carbs
13 g
Protein
15 g
Serves
1
80g Oats
75g Ascent Lemon Sorbet Whey
1g Salt
2g Baking Powder
120g Unsweetened Applesauce
100g Fat Free Greek Yogurt
2 Whole Eggs
125g Unsweetened Vanilla Almond Milk
30g Fresh Lemon Juice
5g Vanilla Extract
Zest of 1 Lemon (optional)
Share:
Tags: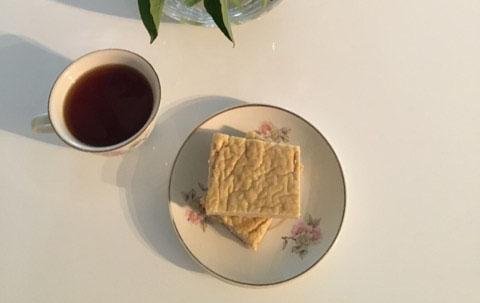 These tangy lemon protein bars are a perfect dessert that's light on sweetness and macros, but high in protein and flavor. These bars taste MUCH better after they have rested overnight in the fridge, so feel free to make ahead for the week. We suggest to portion and tightly wrap in saran wrap to preserve freshness and flavor.
Instructions
Preheat oven to 350º Fahrenheit.
In a food processor, pulse all dry ingredients until they turn into a flour-like texture.
Beat eggs in a large bowl, add wet ingredients and mix.
Combine wet and dry ingredients.
This recipe uses the apple sauce as sweetener but you can add additional sweetener to taste if you prefer your squares to be less tart.
Grease a 9x9 pan, or 6 muffin tins with cooking spray, then add batter and sprinkle lemon zest on top.
Bake at 350º Fahrenheit for approximately 30 minutes, check after 20 minutes if using muffin tins.
Recent Posts: