Calories
81
Fat
1 g
Carbs
13 g
Protein
5 g
Serves
12
6 Potatoes, washed with skin left on
70 g Cauliflower, diced into small pieces
½ Green or red bell pepper, diced
1 Farmer John Signature Maple Smoked Ham, diced into small squares
45 g Lucerne Reduced Fat Cheddar Jack, shredded
1 Spring onion, chopped, to serve
Cilantro to serve
Daisy Lite Sour Cream (optional, not included in macros)
Share:
Tags: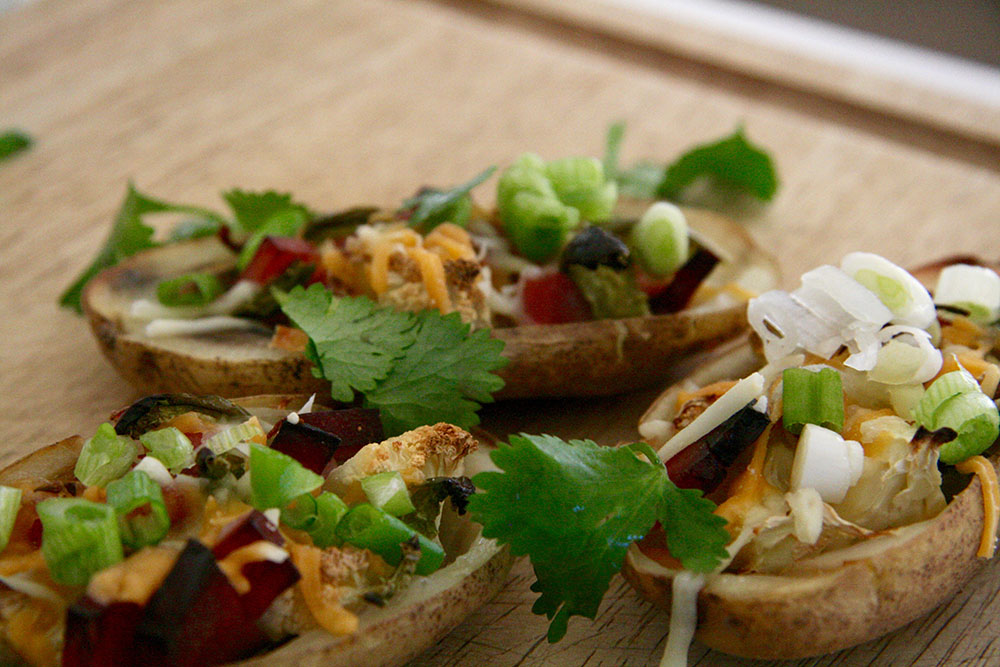 This is for you sports fans (or even those of you just around for the commercials)! If you're getting together with friends to watch the game, don't let the stereotype of fried foods and gallons of beer fool you. There are plenty of football feast classics that (with a slight twist or moderation) will fit perfectly into your macros.
If you're looking for inspiration on what to serve on game day, tell your friends you're bringing the potato boats! These potato bowls are customizable and can be filled with any veggies, cheeses, and meats that you want. Play with the recipe to make the bowls fit your macros! Find & share more inspiration using #TeamWAG!
Instructions
Clean potatoes, but do not remove skin. Buy pre-cleaned potatoes if you prefer.
Pre-heat oven to 400f/204c
Skewer holes into the potatoes to release steam. Cover potatoes with paper towel and microwave for 5-7 minutes until soft enough to scoop out the flesh without being too mushy.
Let potatoes stand until they are cool enough to handle.
Cut potatoes into halves lengthways and use a spoon to scoop out the flesh of the potato. Place the potatoes face up onto a baking tray. When hollowed out, the potatoes in this recipe averaged about 50 g each. *TIP: The more potato you scoop out the lower in carbs the boats will be!*
Keep the centers of the potatoes for use as mashed potatoes or breakfast hashes! While I had the oven on for the potato bowls, I put the leftover potato flesh in a tray with some oil and baked it for a pre-training snack during the week.
Mix the diced ham, cauliflower and bell peppers into a bowl and then place small handfuls of the mix into the potato bowls. *TIP: If you're sharing your boats and counting macros, keep your potatoes, fillings and toppings separate so you know which ones are yours.*
Place filled potatoes in the oven for 15-20 minutes until the potatoes are cooked through (use a skewer to check). Cooking time will vary depending on how much potato you scooped out.
When you're ready to serve, sprinkle low fat shredded cheese evenly over the potato bowls and place them back into the oven for 5 minutes to melt the cheese.
Serve on a plate with a garnish of chopped spring onion and, optionally, lite sour cream.
These bowls can be made in advance. Bake the potatoes and fillings, but leave the cheese off and chill them down. When you're ready to serve, heat the oven back up to 450f/230c. Sprinkle the cheese on top and bake for 10 minutes. Then serve with spring onion and cilantro.
Recent Posts: