Calories
226
Fat
14 g
Carbs
7 g
Protein
18 g
Serves
3 (serving size = 112 g)
1,500 g water
2 tbsp salt
350 g extra-firm tofu
15 g grainy, old-style mustard
10 g maple syrup
10 g olive oil
30 g lemon juice (the juice from 1/2 a lemon)
1/2 tsp dried thyme
1/2 tsp dried oregano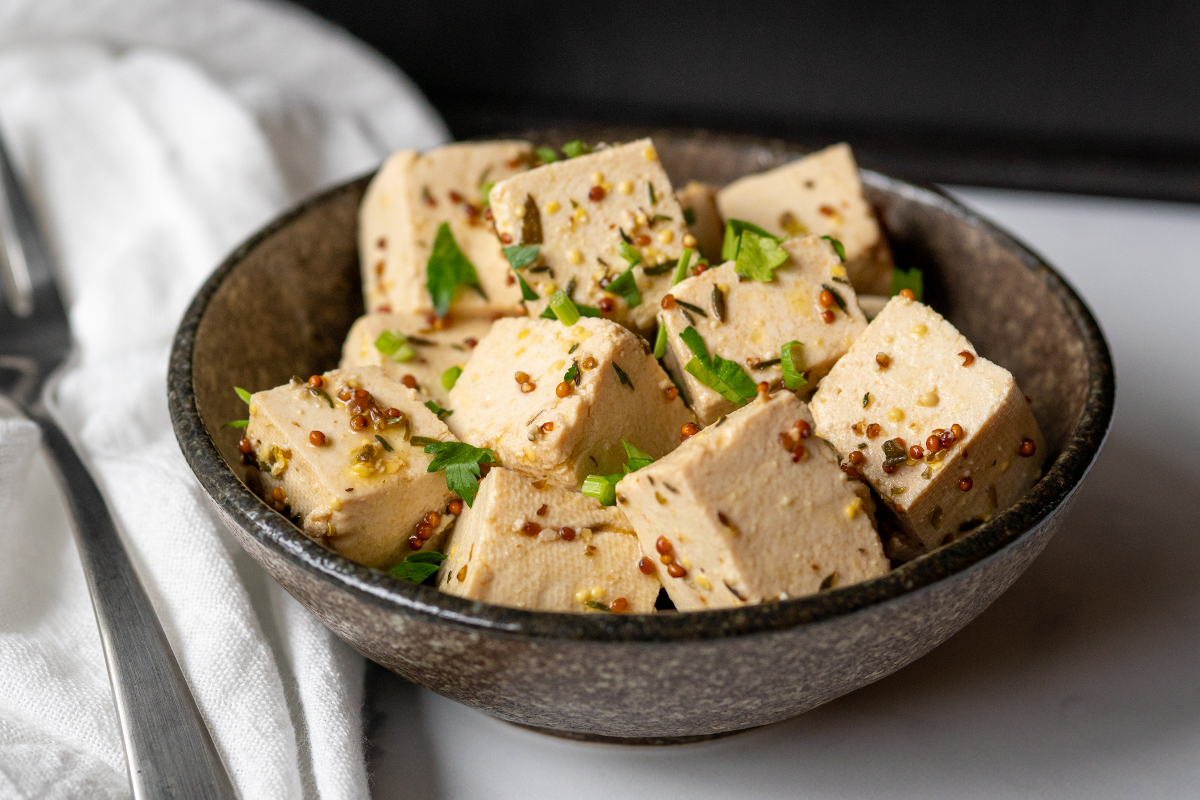 Tofu lovers know the struggle. You want pillowy cubes of flavorful, plant-based protein, but you want a recipe that doesn't require you to press the tofu and stand over the stove and sear. The solution? Our marinated herb tofu, no pressing or searing required!
The secret to this recipe is extra-firm tofu soaked in a warm saltwater solution for 20 minutes. The saltwater dehydrates the tofu, which means you don't have to press it, and seasons it from the inside out, which means you have flavor through and through!
Instructions
Dissolve the salt in the water and bring the solution to a simmer over medium heat. You want to use a pot or pan that will allow you to completely submerge your tofu.
While the water is heating, cut your big block of tofu in half, so you have two pieces about 1 inch thick. When the water has simmered, turn the heat down to low and gently place the tofu in the pot. Let it sit for 20 minutes.
Meanwhile, combine the mustard, maple syrup, olive oil, lemon juice, thyme and oregano in a medium bowl. Set aside.
When the tofu is done soaking, remove it from the water. Pat it dry with paper towels and cut it into 1-inch cubes. Add the cubes to the marinade and toss everything together.
You can eat the tofu immediately or let it marinate. It will be good for a few days and only gets better with time.
---
You Might Also Like