Calories
96
Fat
4 g
Carbs
10 g
Protein
5 g
Serves
10 (serving size = 20 g)
84 g (1/2 cup) quinoa
30 g cooked center-cut bacon (about 4 standard slices)
5 g (1 tsp) reserved bacon grease
4 g (1 tsp) coconut sugar
40 g (2 tbsp) maple syrup
1/2 tsp vanilla extract
32 g drippy peanut butter (natural peanut butter works best)
20 g powdered collagen
2 drops of liquid stevia
Flaky salt
Cooking spray
Share:
Tags: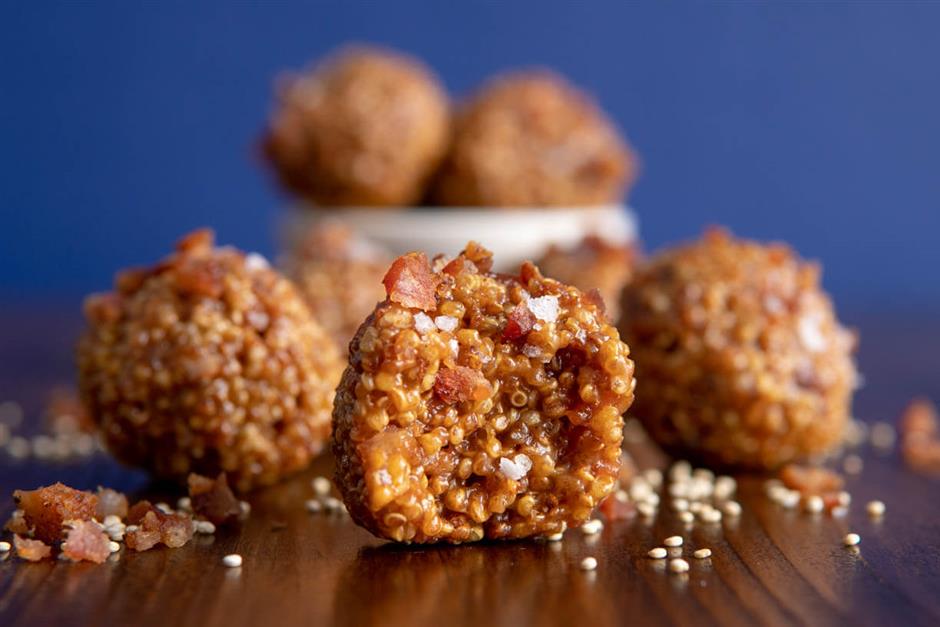 Made with a toasted (!) quinoa base, these bites are a nutritional powerhouse packed with huge flavor. Maple + bacon + peanut butter + crunch—eed we say more?
Instructions
Preheat the oven to 375 F. Line a baking sheet with parchment and generously spray it with cooking spray.
Prepare the quinoa according to package directions. Meanwhile, fry the bacon in a skillet over medium heat until crispy. Let the cooked bacon drain on a paper towel and reserve 5 grams of bacon grease.
When the quinoa is finished cooking and all the water has evaporated, stir in the reserved bacon grease along with the teaspoon of coconut sugar. Transfer the quinoa to the prepared baking sheet and spread it out evenly with the back of a spoon. Toast the quinoa in the oven until golden brown, about 20 minutes, stirring twice in order to ensure even toasting.
In a medium-sized bowl, add the maple syrup, vanilla extract, peanut butter, powdered collagen and liquid stevia until well combined. Chop the bacon into small bits, reserving 1 tablespoon for garnish.
When the quinoa is golden and crunchy, remove it from the oven and let it cool for a few minutes. Add the quinoa to the peanut butter mixture along with the bacon and stir everything together until the quinoa is sticky and evenly coated. Roll into 10 ping-pong-sized balls, 20 grams each. Top each ball with a little of the reserved bacon and a pinch of flaky salt.
Counting bacon macros is notoriously tricky, so we erred on the side of caution and included additional fat macros to compensate for the teaspoon of added bacon fat.
This guide is jam-packed with everything you need to know about nutrition.
From tracking macros to meal ideas.
Recent Posts: