Calories
349
Fat
9 g
Carbs
40 g
Protein
27 g
Serves
6 (serving size = 520 g)
8 oz extra lean (95/5) ground beef or buffalo
8 oz lean (90/10) ground pork
75 g white or yellow onion, grated (about 1/4 of a large onion)
1 garlic clove, minced or pressed
25 g parsley, roughly chopped
22 g panko bread crumbs
1 tsp Italian seasoning or pizza seasoning
1 large egg
35 g Parmesan cheese, grated
1 tsp salt
1/2 tsp pepper
245 g white or yellow onion (about 3/4 of a large onion), diced
125 g celery, diced
125 g carrot, diced
5 g (1 tsp) olive oil
2 garlic cloves, minced or pressed
2 quarts of chicken stock
150 g fresh green kale, washed and roughly chopped
200 g small pasta, like ditalini, orzo or mini shells
Share:
Tags: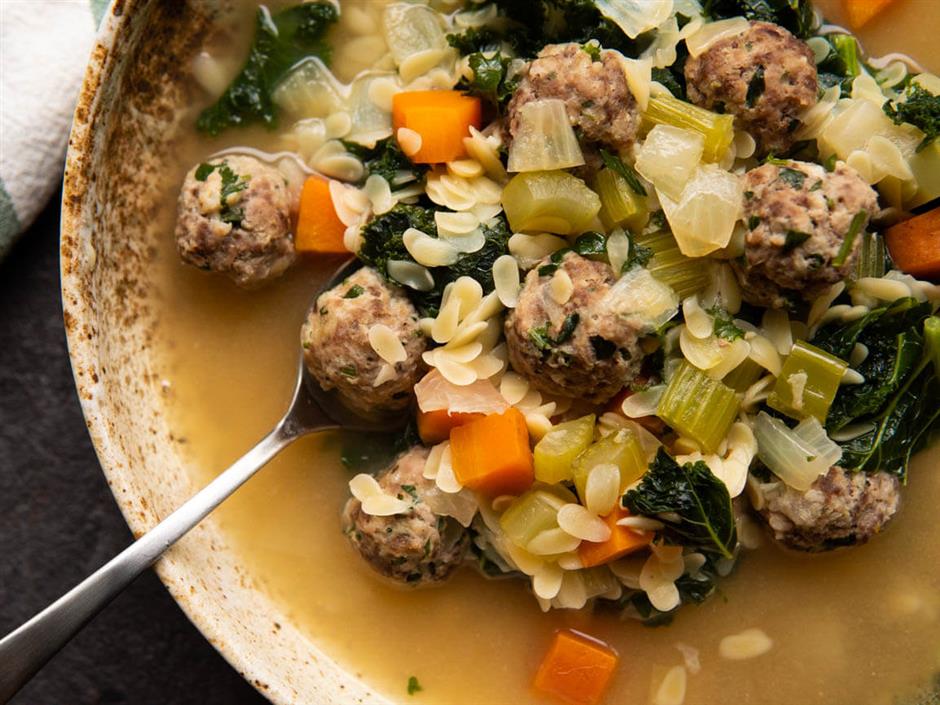 Italian wedding soup is the ultimate comfort food. Made with juicy meatballs, hearty veggies and pasta, this soup comes together on the stovetop in under an hour. This soup also gets better over time, making it the perfect one-pot make-ahead meal.
Instructions
Heat the olive oil in a large pot over medium heat. Add the diced onion, celery, carrot and garlic to the hot oil along with a 1/2 teaspoon of salt. Keep the heat low enough so the veggies don't brown and let them cook, stirring occasionally, for 10 minutes.
Meanwhile, prepare the meatballs. Add all the meatball ingredients to a bowl and use your hands to mix everything together. Use a teaspoon to measure out 10 g portions, then roll the portions into balls.
When the veggies are cooked, add the chicken stock to the pot and bring the soup to a boil. Carefully add the meatballs, kale and dry pasta. Let the soup return to a boil, and then reduce the heat down to a simmer. Cover the soup and let it bubble for 7–10 minutes, or until the pasta and meatballs are both fully cooked. Adjust the salt and pepper to your liking and enjoy!
The most time-consuming aspect of the recipe is chopping veggies and making the little meatballs. Speed up the process by using a container of Trader Joe's Mirepoix and prewashed, precut kale. For the meatballs, use a teaspoon to portion all the meat onto a cookie sheet, and then go back and roll all the meatballs at once.
This guide is jam-packed with everything you need to know about nutrition.
From tracking macros to meal ideas.
Recent Posts: