Calories
187
Fat
3 g
Carbs
0 g
Protein
40 g
Serves
150g
1/3 cup water
1 large chicken breast (500 g)
Seasonings of choice
Share:
Tags: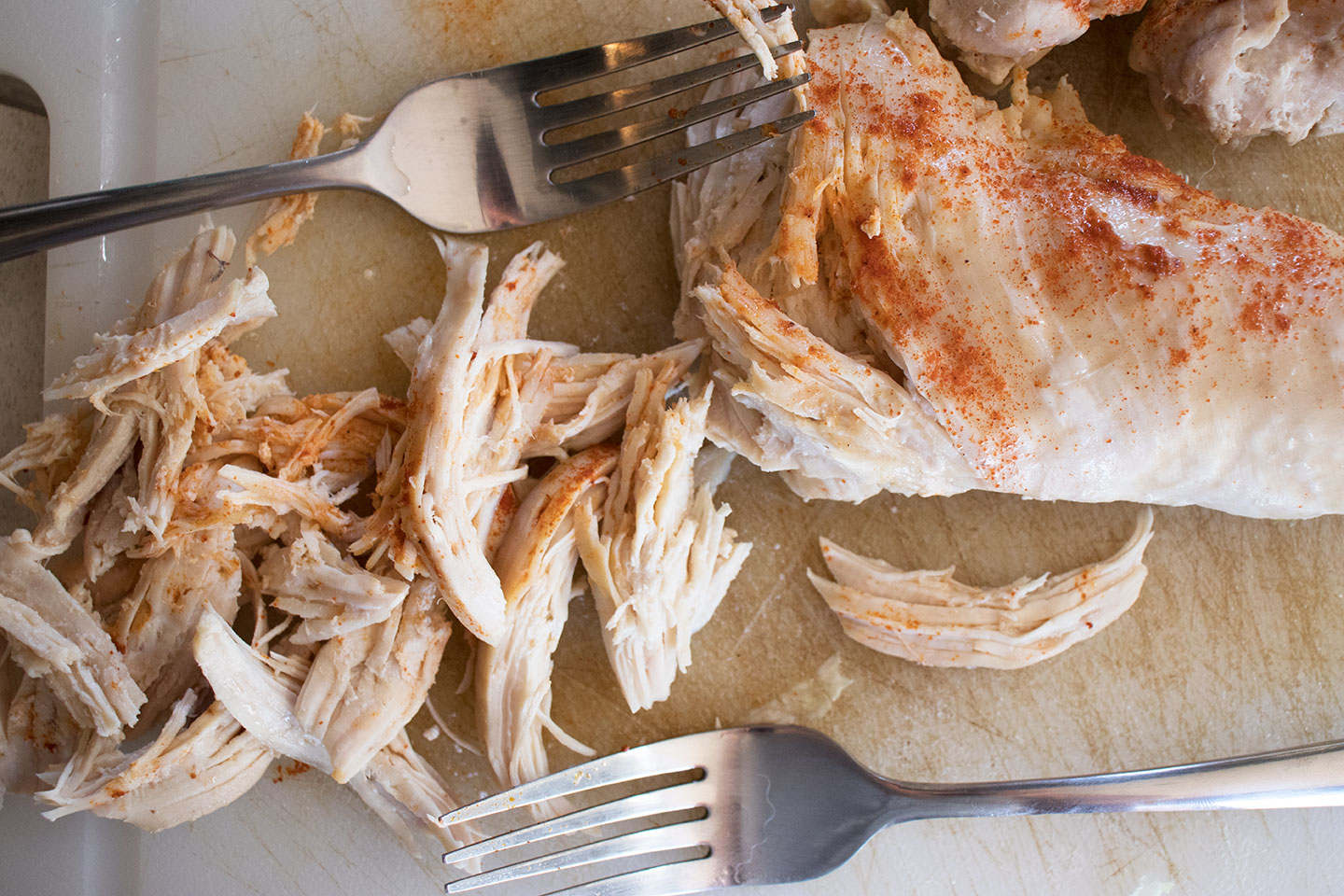 If you don't own an instant pot yet...go and get one. It will change your life if you like to cook extravagant meals quickly and without planning ahead. The instant pot is like an all-in-one pressure cooker that can whip up sender meat, stews, flavor-filled soups...the works, in just minutes!
For those of you who have invested and need to start with the basics of cooking macro-friendly meals with their Instant Pot, let's start here with some tender, juicy shredded chicken. Ideal for cooking in large batches from either fresh OR frozen – no real planning ahead necessary!
This chicken is the perfect multi-purpose protein. Sandwiches, salads, on pizza, in burritos or tacos...you name it! Shredded chicken is crazy versatile and with an Instant Pot, takes a fraction of the time it normally would. Let's get started.
Don't have an Instant Pot? We have a Slow Cooker Chicken Fajitas recipe that will help guide you to making perfect shredded chicken, too.
Need some chicken-based recipe inspiration with your newfound Instant Pot? Try using it to make versions of these popular WAG recipes; The Best Macro-Friendly 'Buffalo Chicken', Slow Cooker Chicken Fajitas, Thai Green Chicken Curry or Easy Filler Vietnamese Pho.
Instructions
Pour water into Instant Pot
Place Instant Pot rack into the bowl
Season chicken breast and place onto rack inside pot
Close Instant Pot lid and seal the pressure seal.
Cook on normal pressure for 7 minutes. If you're cooking less or more chicken, give or take 3 - 5 minutes depending.
Remove chicken from the pot and let cool for a moment.
Transfer the liquid from the pot into a bowl or container and seal – you just made some broth! Use this for cooking later or to pour a little on top of your chicken later before serving. This helps moisten it a little.
Once the chicken has cooked, use two forks to start shredding the chicken up.
Recent Posts: