Calories
152
Fat
4 g
Carbs
25 g
Protein
4 g
Serves
12 (serving size = 65 g)
75 g wheat bran (found in the baking/flour aisle)
120 g 2% Greek yogurt
120 g milk
1 1/2 tsp vanilla
120 g flour, all-purpose or whole wheat
2 tsp baking powder
1/2 tsp baking soda
1 1/2 tsp cinnamon
1/2 tsp salt
20 g coconut or vegetable oil
1 large egg
80 g blackstrap molasses
80 g maple syrup
75 g carrots (1 medium), shredded
115 g zucchini (1 medium), shredded
35 g raisins
24 g chopped almonds
Share:
Tags: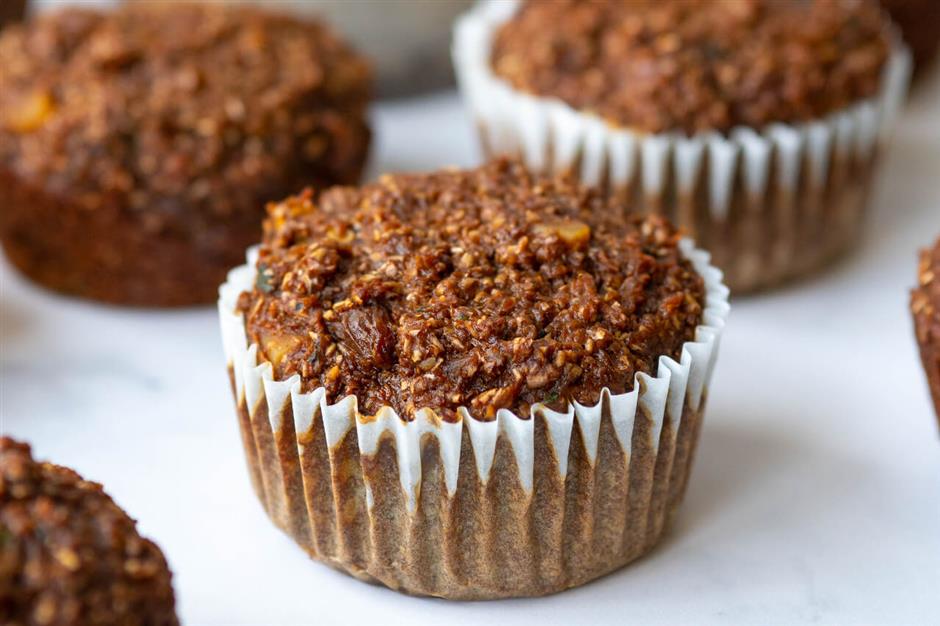 In these uncertain times, it can be difficult to find comfort foods that also fit your macros, but our high-fiber morning glory bran muffins are up for the challenge. High in nostalgia but low in fat, each of these muffins boasts 3.7 grams of fiber and a handful of sneaky veggies.
Instructions
Preheat oven to 350 F. Fill a muffin tin with liners.
In a medium bowl, combine the wheat bran, Greek yogurt, milk, and vanilla. Let the mixture rest while you prepare the rest of the ingredients.
Grate the zucchini and carrot and place them in a small bowl. Sprinkle the veggies with 1/2 tsp of salt and set aside.
In another bowl, combine the flour, baking powder, baking soda, cinnamon, and salt. Set aside.
In a large bowl, whisk the oil and egg. Add the molasses and maple syrup and stir. Add the oat bran mixture, stir, and then add the flour mixture and stir until just combined.
Squeeze out any excess liquid from the zucchini and carrots, then add them to the batter along with the raisins and chopped almonds. Gently fold everything in, then divide the batter into 12 muffin tins. Bake the muffins for 25 minutes, or until the tops are firm and a cake tester comes out nearly clean. Let the muffins cool in the tins for 5–10 minutes before devouring. Store in an airtight container in the refrigerator.
Molasses is what gives bran muffins their classic flavor, so don't try to sub it out. Luckily, molasses will last years when stored properly. But if you've got extra molasses you want to use up, why not try our WAG Black Bean Gingerbread Bars?
This guide is jam-packed with everything you need to know about nutrition.
From tracking macros to meal ideas.
Recent Posts: