Calories
667
Fat
51 g
Carbs
9 g
Protein
43 g
Serves
1 (serving size = 1 steak)
¼ cup sliced scallions
¼ cup fresh cilantro, chopped
1 garlic clove
1 teaspoon grated lime rind
1½ teaspoons freshly squeezed lime juice
3 tablespoons mayonnaise
3 tablespoons sour cream
¼ teaspoon salt
1 teaspoon onion powder
¾ teaspoon salt
½ teaspoon freshly ground black pepper
½ teaspoon garlic powder
¼ teaspoon cumin
¼ teaspoon paprika
1/8 teaspoon ginger
1 (1 to 1½-pound) hanger steak
2 TBS avocado oil
Share:
Tags: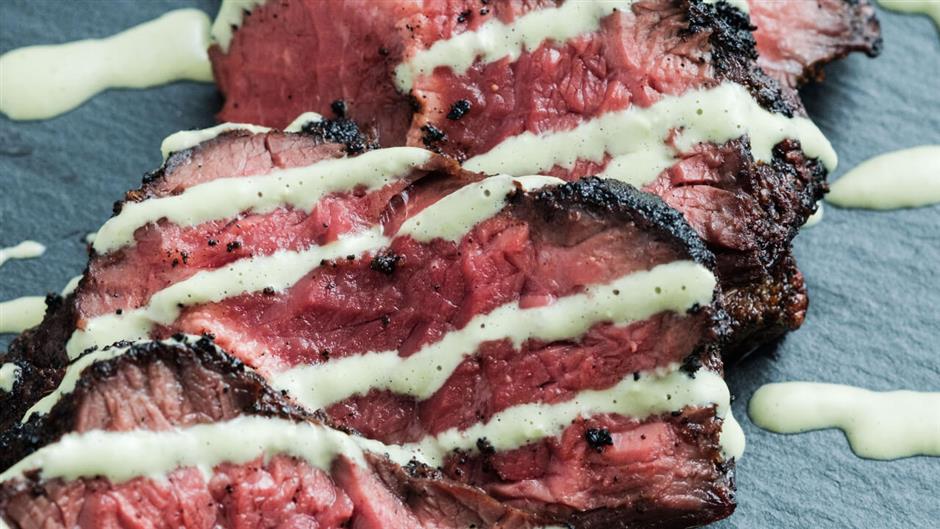 Hanger steak, also known as "The Highlander of steak cuts", because there can only be one!

You won't find this cut in standard grocery stores, but if you've got a specialty butcher shop nearby, ask the butcher for a Hanger Steak. Each cow only has one, which makes it hard to market and keep in stock. But if you've got a friendly butcher, he might just give it to you for free!
This cut has incredible beef flavor (think similar to skirt steak) and should have a decent amount of marbling. Hanger steak pairs well with many different marinades and sauces, including this Cilantro Crema. Roast some cruciferous or root vegetables to round out the meal.
Instructions
Combine rub ingredients and liberally coat the outside of the steak.
Place on a wire rack and "bake" the steak for 15 minutes at 300 degrees F
While steak is being brought to temperature combine sauce ingredients in a blender or food processor and mix until smooth (pale green color)
Remove steak from oven and allow to rest for 10 minutes.
Add avocado oil to a pan and heat over medium-high.
Sear the outside of your steak until nearly charred-- 1:30-2 minutes per side. Always flip with tongs, never piercing the steak with a fork or knife.
Remove steak from the pan and allow to rest for another 5 minutes (this allows juices to redistribute).
Slice very thinly, then plate and drizzle with cilantro crema sauce!
This guide is jam-packed with everything you need to know about nutrition.
From tracking macros to meal ideas.
Recent Posts: