Calories
370
Fat
10 g
Carbs
48 g
Protein
22 g
Serves
6 (serving size = 300 g)
600 g 1% milk
1 tablespoon vanilla extract
1 1/2 tsp cinnamon
1 tsp ground ginger
1/4 tsp ground allspice
1/4 tsp ground nutmeg
Pinch of salt
40 g Lakanto monk fruit sweetener
240 g old-fashioned oats
30 g chia seeds
40 g raisins
150 g carrot, shredded
640 g plain, nonfat Greek yogurt
24 g Lakanto monk fruit sweetener
The zest of 1/2 an orange
45 g toasted pecans
Share:
Tags: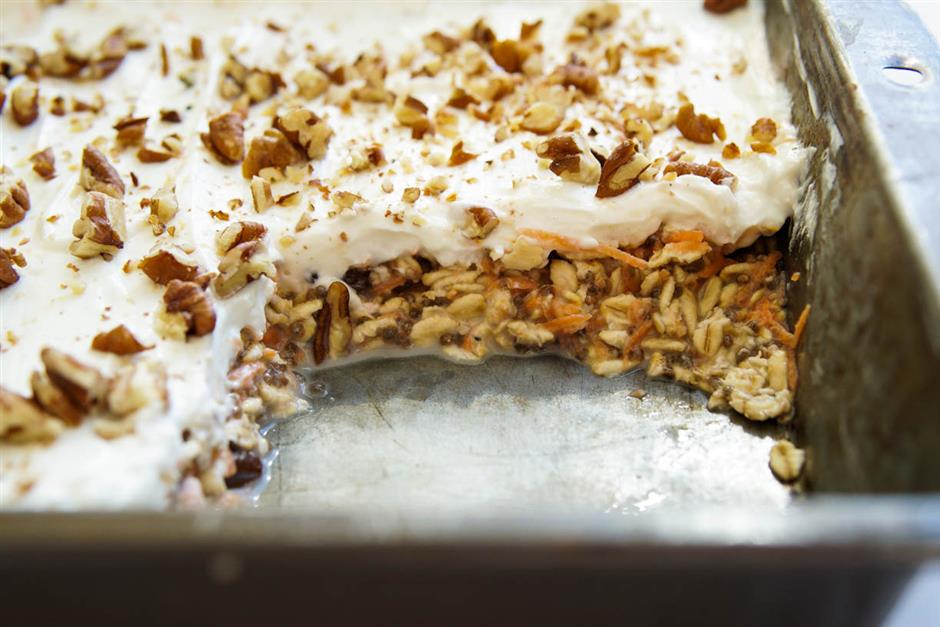 Pre-portioning meals can be a great way to save time, but if you run a busy household or your macros fluctuate on a day-to-day basis, family-style recipes offer ultimate flexibility. Instead of prepping individual jars of these spiced carrot cakes overnight, we let the whole thing soak in a single pan so you can portion out as much or as little as you need for each person.
A few notes about this recipe:
The macros were calculated using 1% milk and nonfat Greek yogurt, but if you're dairy-free you can easily substitute nut milk and coconut or soy yogurt (but don't forget to adjust the macros!).
We also used Lakanto monk fruit sweetener to sweeten the oats and yogurt. If monk fruit isn't your thing, you can substitute it with 6–10 drops of liquid stevia, or a few tablespoons of maple syrup, honey, or even regular sugar. Sweetness is highly personal, so adjust it (and the macros) to suit your own tastes.
Instructions
In a bowl, combine the milk, vanilla extract, all the spices, salt, and 40 grams of the monk fruit sweetener. Set aside.
In a 9x13 baking dish, combine the oats, chia seeds, raisins, shredded carrots. Pour the milk mixture over the oats and stir to combine. Refrigerate the oats for at least an hour before topping with the yogurt.
When you're ready to top the oats, combine the Greek yogurt, sweetener, and orange zest in a bowl. Evenly spread the yogurt mixture on top of the oats, then sprinkle the pecans on top. Cover the pan and refrigerate the oats overnight.
Serve the oats cold, and eat within three days.
Wondering what your macros might be? Wondering how to track macros in the first place? Check out our Macro Calculation Cheat Sheet & 18 Tips and Tricks for macro counting!
Recent Posts: