Calories
370
Fat
14 g
Carbs
52 g
Protein
9 g
Serves
1
550 g kabocha squash (about 1/2 of a small squash), seeded and cut into 2-inch wedges
2 tsp olive oil
1 tsp pumpkin pie spice
1/2 tsp cinnamon
1/4 tsp salt
8 g tahini
11 g instant sugar-free vanilla pudding (the macros for this recipe were calculated using Simply Delish brand)
Optional: Crumbled graham cracker and Greek yogurt for topping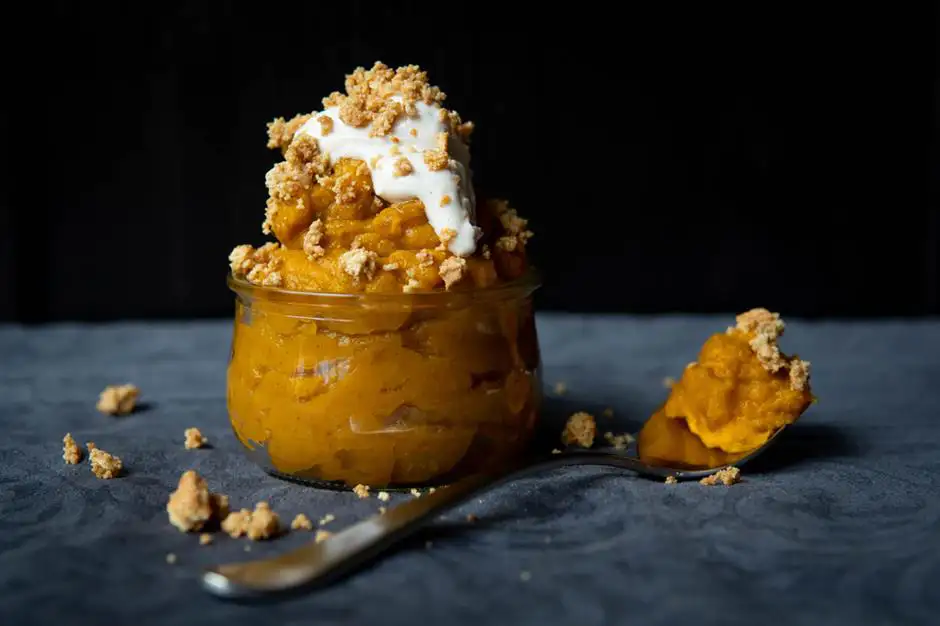 Ready for a pumpkin pie treat without blowing your macros? Look no further than this edible pumpkin pie batter, made with nutty and sweet kabocha squash (also known as Japanese pumpkin).
When roasted with spices, kabocha squash takes on a texture that's nearly identical to a baked pumpkin pie. With the addition of a little instant vanilla pudding and tahini, you'll have yourself a snack worthy of licking the bowl.
Instructions
Preheat oven to 375 F.
In a small bowl, combine the olive oil, pumpkin pie spice, cinnamon and salt.
Drizzle the mixture over the squash segments and use your fingers to evenly spread the mixture all over the squash. Arrange the squash on a baking sheet lined with foil, skin side down (the wedges should be large enough to stand up on their own like the letter U), and roast until the squash is very soft, about 40 to 50 minutes.
Remove the squash from the oven and let it cool enough to handle. Scoop the flesh into a bowl and mash with a fork until lumps are gone. Add the instant pudding mix, 8 g of tahini and stir to combine.
Before serving, top the mixture with a crumbled graham cracker and a dollop of Greek yogurt (but don't forget to add the macros!)
Kabocha squash can be found year-round in most grocery stores, but it can easily be confused with buttercup squash. Buttercup squash is drier and less sweet than kabocha, despite their similar appearance. To tell the difference, look at the bottom of the squash. The buttercup will have a raised button-like stem on its bottom, whereas a kabocha bottom will be flat and smooth.
For more fresh macro-friendly recipe ideas, sign up for our one-on-one nutrition coaching, where you'll gain access to a private Facebook group full of other Team WAG hacks to keeping your meals macro-friendly.
And if you decide to join WAG's nutrition program at any time during or after the course, we'll apply the price you pay for this course to the cost of your membership! Learn more and sign up here.
---
You Might Also Like