Calories
281
Fat
9 g
Carbs
17 g
Protein
33 g
Serves
4
Beef, extra lean stewing cuts, diced - 2.5 lb. / 1.1 kg
Mushrooms, sliced 350 - 400 g
Water - 250 ml
Onion, sliced - 1 whole
Worcestershire sauce (optional) - 1 tsp.
Garlic, raw - 10 g
Cauliflower, cut - 600 - 900 g
Share:
Tags: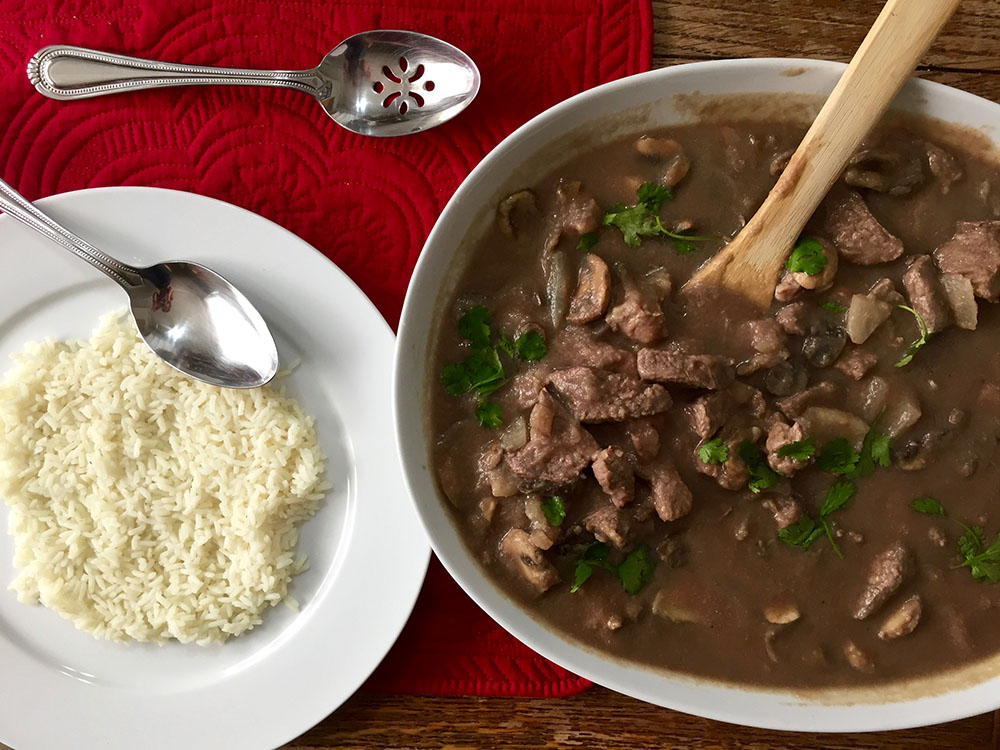 As the cold weather creeps in for most of us northern hemisphere dwellers, so does the temptation for hearty, creamy, warming goodness.
The crock-pot is a game changer for macro counters, particularly in the colder months. So many easy recipes with so much time saved.
That being said, there are only so many broth-based stews and soups one can eat before needing something different. Something rich and creamy. Low fat sauces and stew alternatives are available in jars but they are often full of thickeners and preservatives. Also, they usually pack extra carbs in lieu of the fat that has been removed.
Beef Stroganoff is a winter classic. Traditionally it packs butter, flour and sour cream into the mix to give that thick, rich taste and texture. However, this take on Beef Stroganoff is amazing and will have your family questioning if you're cheating on your diet!
I could say that this recipe is perfect for those with macros lower in fat, but honestly, this recipe could replace the real deal. Like any good macro-friendly recipe, you can customize the ingredient ratios to suit you, too.
Instructions
Steam cauliflower in a large pot of water over high heat. Cook until cauliflower is completely soft.
While you wait for the cauliflower to soften, switch crockpot to high. Once the base is hot, add your onions and beef to the pot to start browning the meat and sautéing the onions. Salt to taste.
Turn crockpot down to low. Add mushrooms and water.
Drain your cauliflower and put it in a food processor with the garlic. The cauliflower should be soft enough to puree without adding any liquids.
Empty the cauliflower into the crockpot with the rest of your stew. The cauliflower creates the creamy texture and takes on the flavor of the beef, mushrooms and onion. Delicious!
Add a tsp. of Worcestershire sauce and stir the pot until all ingredients are well combined.
Leave on low for 5 - 8 hours. Longer won't hurt if you want to switch it on in the morning and come home to it in the evening!
Recent Posts: