Calories
126
Fat
6 g
Carbs
16 g
Protein
2 g
Serves
8 (serving size = 58 g)
365 g bananas (2 10" bananas)
40 g natural peanut butter, like Adams brand
2 tsp water
1/2 tsp vanilla extract
50 g good-quality semisweet chocolate
30 g good-quality dark chocolate
1/2 tsp sea salt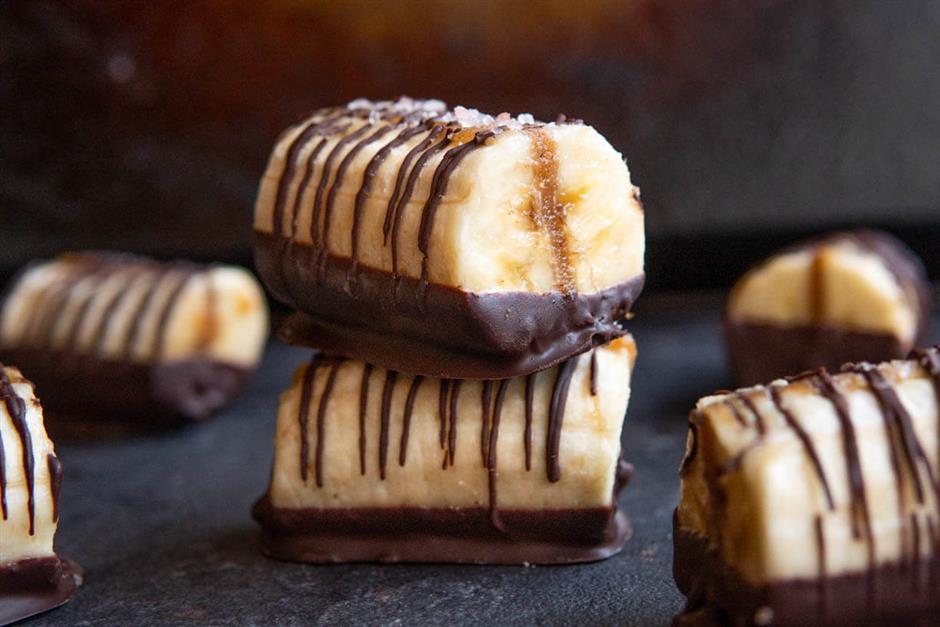 Kick that sugar craving and fuel your body with high-quality fats and carbs with these frozen chocolate-covered peanut butter bananas. Each crowd-pleasing serving also delivers a hefty punch of potassium and 2.3 grams of fiber, making it the perfect treat (for both kids and adults!) that's worth saving your macros for.
For best dipping and drizzling results, use good-quality chocolate.
Instructions
Line a baking sheet with parchment paper. Set aside.
In a small bowl, combine the peanut butter, water and vanilla extract until the mixture thickens into a dough. Set aside.
Peel the bananas and cut them lengthwise into two long halves. Add 25 grams of the peanut butter mixture to one half of each banana, using your fingers to spread it in an even layer. Place the other half of the banana on top of the peanut-buttered banana, so you have two banana sandwiches. Cut each banana into 4 pieces and place them on the lined baking sheet. Refrigerate the bananas for at least 15 minutes to set.
Meanwhile, finely chop the semisweet and dark chocolate and place it in a glass or metal bowl. Place the bowl over a pot of shallow simmering water to create a double boiler. Let the chocolate melt, stirring occasionally. You can also zap the chocolate in a microwave in 30-second bursts until melted.
When the chocolate is melted and the bananas are chilled, dip the bottom of each banana in the chocolate. Use two forks to carefully lift the banana out of the chocolate and place it back on the parchment-lined baking sheet. Repeat until all 8 bananas are dipped, then drizzle the remaining chocolate over the top of the bananas with a spoon or a zip-seal pastry bag. Sprinkle a pinch of sea salt on top of each banana, then freeze until set, about 2 hours.
If the frozen bananas hurt your teeth, let them thaw in the refrigerator for 10–15 minutes before eating.
Keeping the chocolate over a double boiler will ensure that the chocolate stays warm while you're dipping. If you use the microwave and you notice the chocolate starting to clump, the chocolate is getting too cool and will need to be warmed up again.
This guide is jam-packed with everything you need to know about nutrition.
From tracking macros to meal ideas.
---
You Might Also Like