Calories
221
Fat
5 g
Carbs
33 g
Protein
11 g
Serves
6
130 g (8) medjool dates, pitted
50 g pretzel twists or sticks
47 g (2 scoops) vanilla whey protein powder*
11 g (1 scoop) collagen protein*
24 g chocolate PB2
30 g honey
32 g peanut butter
28 g chocolate chips
1 tsp sea salt
Share:
Tags: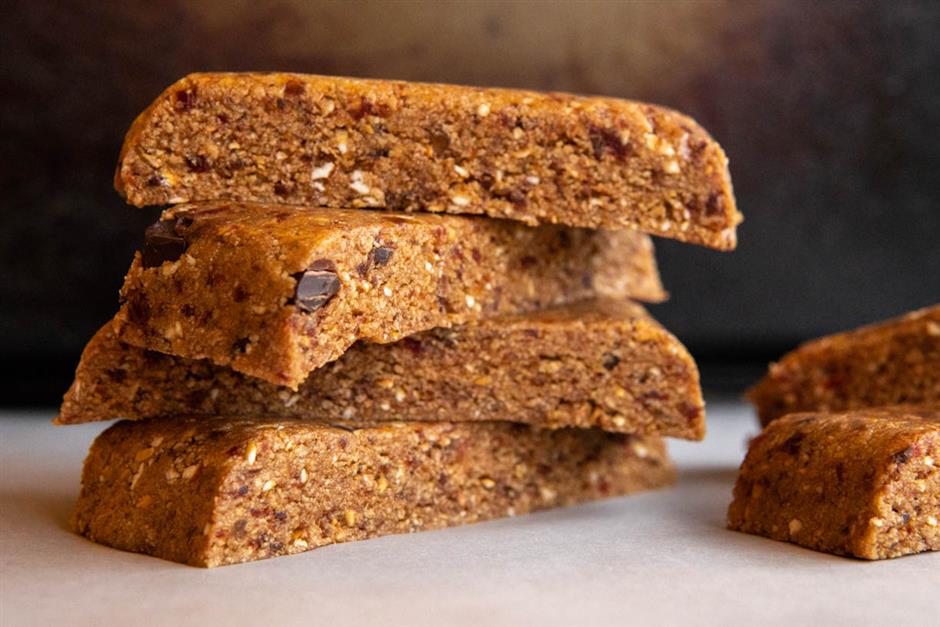 Protein bars are an easy way to help you hit some of your daily nutrition goals, but a lot of packaged bars can be rough on your digestion (and your bank account).
This sweet and salty no-bake, chocolate chip peanut butter pretzel protein bars are your answer to the macro-friendly snack game!
Instructions
Place the dates in a small bowl and cover them with boiling water. Set aside to steep for a few minutes.
In a food processor, pulse the pretzels until you have a fine powder. Add the whey, collagen, and PB2 to the food processor and pulse to combine.
Remove the dates from the hot water, reserving 1-2 tbsp of the date water, and add them to the food processor along with the peanut butter, honey, chocolate chips, and sea salt. Pulse the mixture until it's well combined and check the mixture for consistency. If the mixture is too dry and doesn't stick together, drizzle in 1-2 tbsp of the date water until it holds together.
Line an 8x4-inch bread pan with parchment paper and press the mixture evenly into the pan. Freeze the bars for 15 minutes or until they're solid enough to cut into 6 bars. Store the bars in the refrigerator or freezer.
*Remember to adjust your macros based on your protein powder and collagen. We love to use Ascent brand proteins!
If you do prefer store-bought bars, we did the research to bring you energy bars to satisfy your dietary needs. If your favorite bar is missing from the list and you want help tracking, just ask your WAG one-on-one nutrition coach!
Still trying to find the sweet spot of the perfect amount of protein, fats and carbs for you? Join the Flexible Dieting Crash Course today and you'll learn how to set and adjust your own macros, plus we'll give you the tools and education to actually stick to them.
And if you decide to join WAG's nutrition program at any time during or after the course, we'll apply the price you pay for this course to the cost of your membership! Learn more and sign up here.
Recent Posts: