Calories
116
Fat
4 g
Carbs
17 g
Protein
3 g
Serves
4
Serving Size
110 g
660 g delicata squash (1 large, whole)
50 g chipotle in adobo
5 g garlic (1 clove), minced or pressed in a garlic press
10 g olive oil
1/2 tsp + 1/4 tsp salt
Zest of 1 lemon
25 g parsley
15 g feta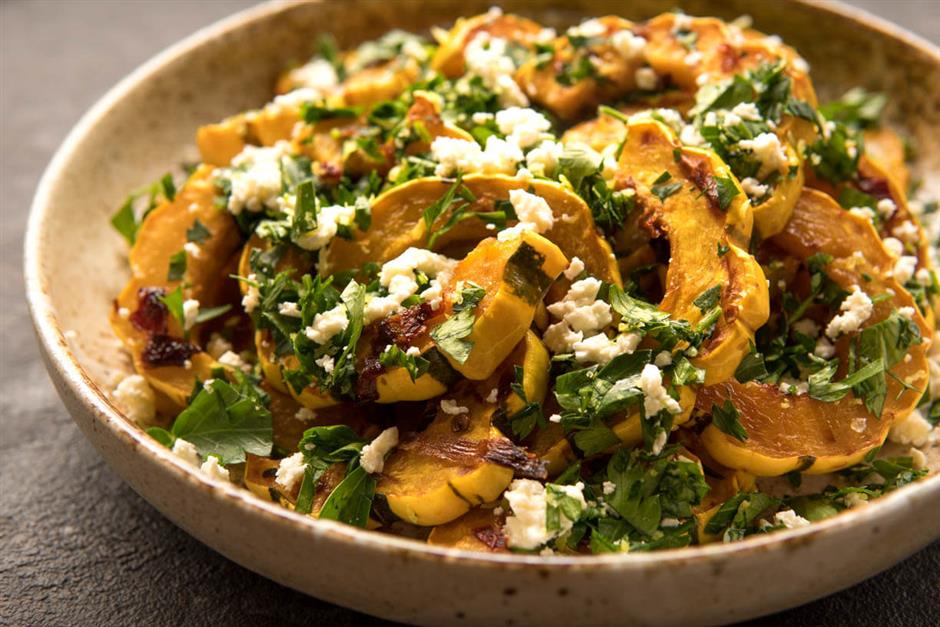 With its edible skin and easy-to-scoop seeds, delicata squash is one of the most versatile and convenient squashes in the grocery store. It tastes like a cross between a sweet potato and zucchini, ever so slightly sweet without the starchiness of a potato. We roast it with chipotle to add some smoke and spice, and top it all with parsley and feta for an easy weeknight side. It's sure to become a regular in your rotation. 
If you can't find delicata squash, substitute acorn or butternut. Just don't forget to adjust the macros.
Instructions
Preheat oven to 425 F and line a baking sheet with foil or parchment.
Wash and dry the delicata squash. Then, using a sharp knife, cut off each end and stand the squash up on your cutting board. Carefully cut the squash in half, lengthwise from top to bottom. Scoop out and throw away the seeds.
Cut the squash into half moons, about 1/4 to 1/3 of an inch thick. Weigh your squash moons and use this number to calculate your macros.
Chop the chipotle in adobo until it creates a paste. Add it to a small bowl and stir in the garlic, olive oil and 1/2 teaspoon of salt. Pour the mixture over the squash and toss until the squash is evenly coated. Arrange the half moons in a single layer on the baking sheet, taking care not to crowd the pan (otherwise your squash will steam, not roast). Roast the squash for 15–20 minutes, until the squash is soft and browned on the bottom. Check the squash halfway through to make sure the bottoms aren't burning, and flip it if necessary.
Meanwhile, roughly chop the parsley, lemon zest and remaining 1/4 tsp of salt. Top the roasted squash with the parsley mixture and sprinkle the feta cheese over the top.
Devour.
Make sure to calculate the macros after you've seeded your squash.
This guide is jam-packed with everything you need to know about nutrition.
From tracking macros to meal ideas.
---
You Might Also Like