Calories
290
Fat
6 g
Carbs
11 g
Protein
48 g
Serves
4 (serving size = 140 g chicken + 80 g sauce + 11 g cheese)
630 g (4 pieces) boneless, skinless chicken breasts
5 g olive oil
1 tsp garlic salt
1/2 tsp black pepper
A sprinkle of chili powder or your favorite Mexican seasoning blend
125 g chicken broth
375 g of your favorite salsa, any variety
45 g shredded Tex-Mex blend cheese
1 lime, sliced into wedges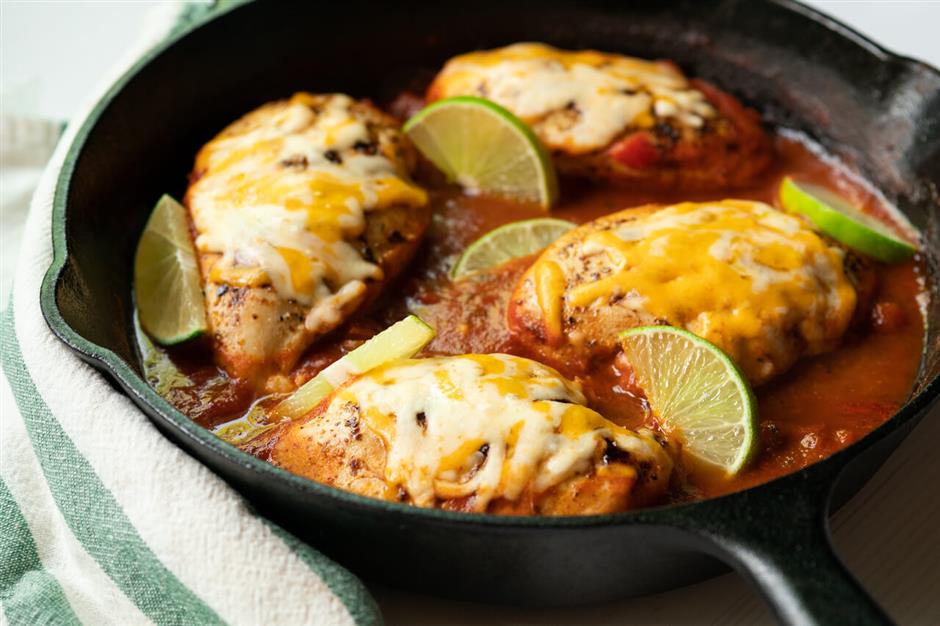 Lean chicken breasts. Spicy salsa. Gooey cheese. What more do you need in an easy weeknight meal?
Note that the size of your chicken breasts and the consistency of your salsa will determine the overall cooking time for this dish (as well as the individual portion size and macro count). Use our cooking time as a guideline, not gospel, and be sure to adjust your macros.
Instructions
Preheat the oven to 400 F.
Heat an oven-proof skillet (like cast iron) over medium-high heat. Rub the chicken breasts with the olive oil, garlic salt, black pepper and seasoning blend. Add the chicken to the hot pan and let it sear, about 3 minutes on each side, until brown. Remove the chicken from the pan and set aside.
With the skillet still on the stove, add the chicken broth to the pan and use a spatula to scrape up any delicious brown bits from the bottom of the pan. Add the salsa, stir, and let it bubble until the extra liquid evaporates and the salsa's volume reduces by half, about 7–10 minutes.
When the salsa is thickened, nestle the chicken breasts back in the sauce. Top each chicken breast with 11 grams of cheese, and place the pan skillet in the hot oven. Let the dish bake until the cheese is melted and the chicken is cooked through, about 5–10 minutes, depending on the thickness of your chicken.
Serve with lime wedges alongside rice or your favorite vegetable.
This recipe is driven by salsa, so make sure you use a brand that you like. If you find your salsa is a little bland, try adding extra salt and some fresh lime juice.
Cooking healthy but still not seeing results? Join our Flexible Dieting Crash Course to gain a solid understanding of the basics of nutrition and how to use that knowledge to finally reach your goals.
And if you decide to join WAG's nutrition program at any time during or after the course, we'll apply the price you pay for this course to the cost of your membership! Learn more and sign up here.
---
You Might Also Like