Calories
220
Fat
12 g
Carbs
3 g
Protein
25 g
Serves
2 (serving size = 118 g)
1 x 213 g can of sockeye salmon (170 g drained)
30 g light cream cheese
15 g skim milk
5 g of your favorite mustard
15 g thinly sliced scallions (1 stalk)
10 g capers, drained
Squeeze of lemon (about 1 tsp)
Optional Everything But The Bagel Seasoning, to taste
Share:
Tags: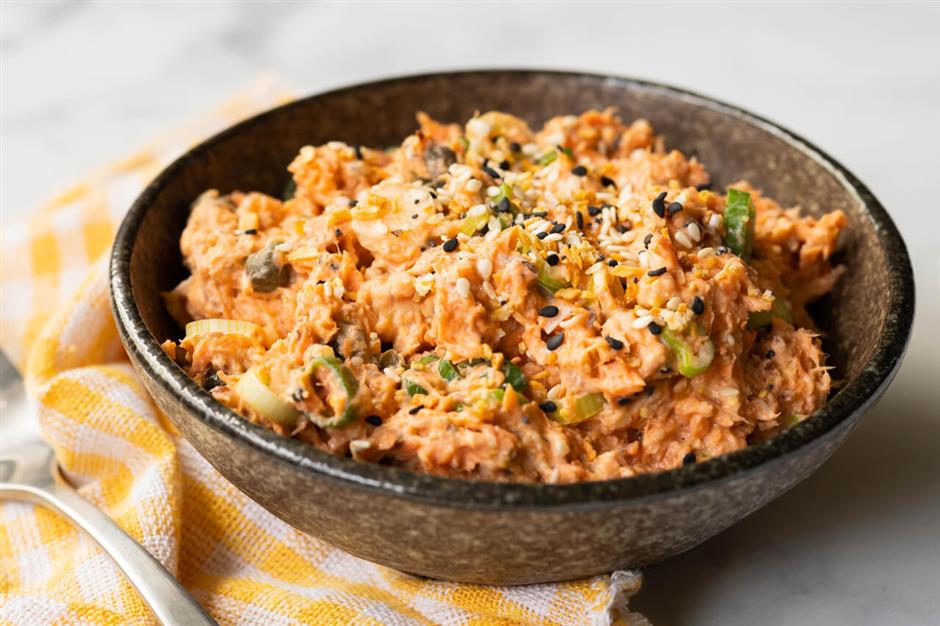 Canned salmon, cream cheese, and tangy capers come together in this high-protein, pantry-friendly take on the classic salmon and schmear.
Note that different kinds of canned salmon have different macro counts. Unless you're following keto, look for sustainable sockeye salmon packed in water, not oil. Additionally, this recipe can be easily adapted for lower fat or keto macro plans based on the kind of cream cheese you use. For high-fat diets, use full-fat cream cheese. To keep fat grams down, use nonfat or light cream cheese. Just be sure to adjust the macros!
Instructions
In a bowl, whisk together the cream cheese, milk and mustard until smooth. Add the salmon, scallions, capers, and squeeze of lemon juice. Stir until well combined, then taste and add more lemon juice and seasoning as necessary.
Top with Everything But The Bagel seasoning to your liking and enjoy.
This guide is jam-packed with everything you need to know about nutrition.
From tracking macros to meal ideas.
Recent Posts: