Calories
419
Fat
11 g
Carbs
43 g
Protein
37 g
Serves
2
300 g shrimp (peeled, deveined and patted dry)
8 g olive oil
2 tbsp Cajun seasoning
105 g dry grits, prepared according to package directions
30 g smoked cheddar cheese, grated
30 g plain 2% Greek yogurt
1/4 cup chicken broth
8 g low-fat cream cheese
1/2 lime, juiced
Sliced scallion and parsley, for garnish
Share:
Tags: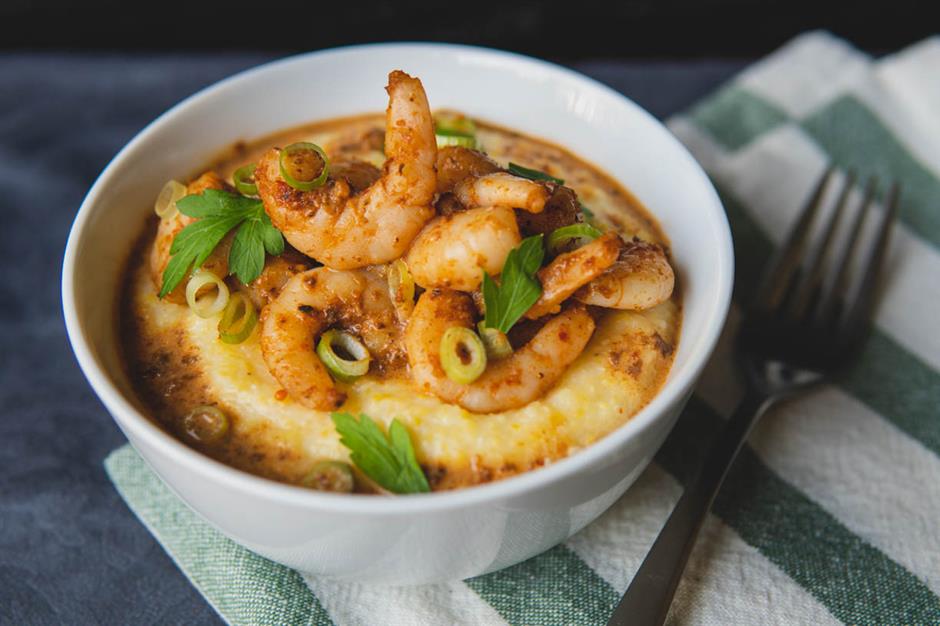 This bold and smoky shrimp and grits recipe is an easy and satisfying Southern staple. You can marinate the shrimp a day in advance for an even easier meal prep (just be sure to pat the shrimp dry first, especially if it was frozen). Want to learn more about how you can fit your favorite meals into your day and still crush your nutrition goals? Then join us on Team WAG!
Instructions
In a bowl, combine the shrimp, olive oil and Cajun seasoning. You can let the shrimp marinate for up to 24 hours for maximum flavor, or cook it right away.
Cook the grits according to package directions. When the grits are cooked, stir in the grated smoked cheddar cheese and Greek yogurt. Set aside.
Meanwhile, heat a large skillet over medium-high heat and cook the shrimp until they're cooked through, about 3–5 minutes.
Remove the shrimp and add the chicken stock to the hot pan, making sure to scrape up all the bits stuck to the pan.
Add the juice of 1/2 a lime and 8 g of cream cheese. Stir until the sauce thickens, then return the shrimp to the pan and toss to coat.
Spoon half the grits into a bowl, top with half the shrimp, and garnish with chopped scallions and parsley.
Can't get enough of savory breakfast bowl ideas? Try our recipe for Everything Bagel Overnight Oats!
Cooking healthy but still not seeing results? Join our Flexible Dieting Crash Course to gain a solid understanding of the basics of nutrition and how to use that knowledge to finally reach your goals.
And if you decide to join WAG's nutrition program at any time during or after the course, we'll apply the price you pay for this course to the cost of your membership! Learn more and sign up here.
Recent Posts: