Calories
206
Fat
14 g
Carbs
12 g
Protein
8 g
Serves
9 (serving size = 48 g)
40 g dry quinoa (120 g cooked)
135 g water
130 g frozen blueberries
50 g old-fashioned or instant oats
120 g almond butter
45 g coconut oil
1/2 tsp vanilla
15 drops of liquid stevia
10 g unsweetened, shredded coconut (5 grams for the cookies and 5 grams for sprinkling)
30 g collagen powder or protein powder (optional)
12 g cacao nibs
1/4 tsp salt
Share:
Tags: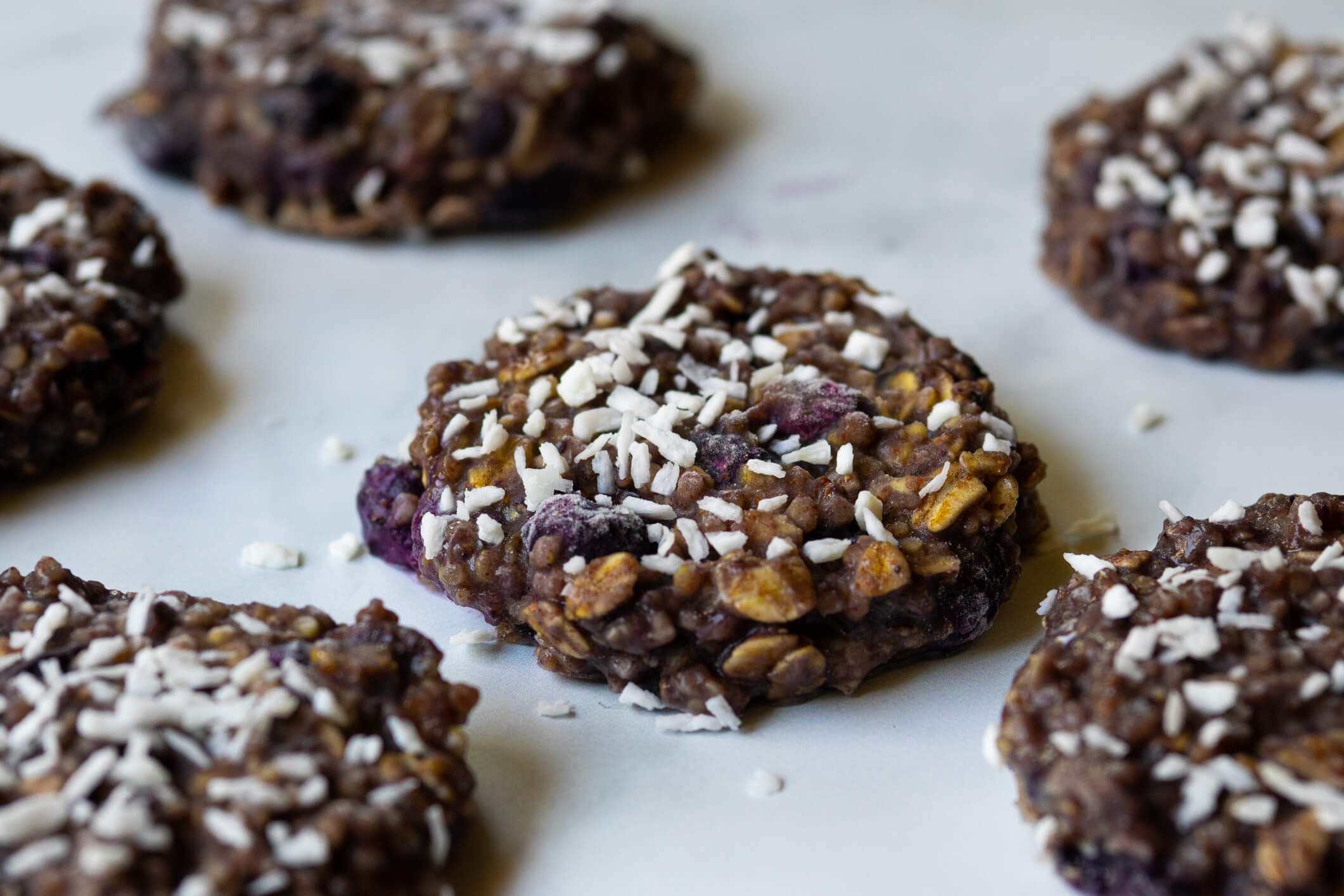 Counting macros is a lifestyle, so finding ways to keep yourself prepared and flexible for any macro scenario is a key aspect of long-term success. Freezer-friendly snacks, like these blueberry almond freezer cookies, are a great way to keep yourself on track. You can save them for the days when you have a little extra fat—without worrying about the cookies going stale!
Note that while you can sub out or eliminate certain ingredients in this recipe (like cacao nibs for chocolate chips or peanut butter for almond butter), the coconut oil is required. Do not swap it out with any other oil, otherwise you'll have a goopy mess on your hands.
Instructions
Combine the quinoa and the water in a small saucepan and cook according to package directions.
Meanwhile, place the frozen blueberries in a large mason jar or microwave-safe container. Cover with a paper towel (there will be splatter) and microwave the blueberries on high for 4–6 minutes, or until the blueberries are shriveled and the liquid is syrupy.
While the blueberries are microwaving, combine the oats, collagen powder, cacao nibs, salt and 5 grams of shredded coconut in a medium bowl. Set aside.
Remove the hot blueberries from the microwave and add the coconut oil, almond butter, vanilla extract and liquid stevia. Stir until everything is liquified and combined.
When the quinoa is finished cooking, add it to the bowl of oats along with the blueberry mixture. Stir everything together, then portion the cookies out onto a parchment-lined baking sheet. Use your fingers to flatten the cookies and sprinkle the remaining shredded coconut over the top.
Freeze the cookies for at least 45 minutes to firm up. Store in the freezer, in an airtight container, for up to 3 months.
Because cold coconut oil is what gives these cookies their texture, make sure to eat the cookies straight from the freezer. If they hang out at room temperature too long, the coconut oil will soften and the cookies will lose their shape.
Recent Posts: